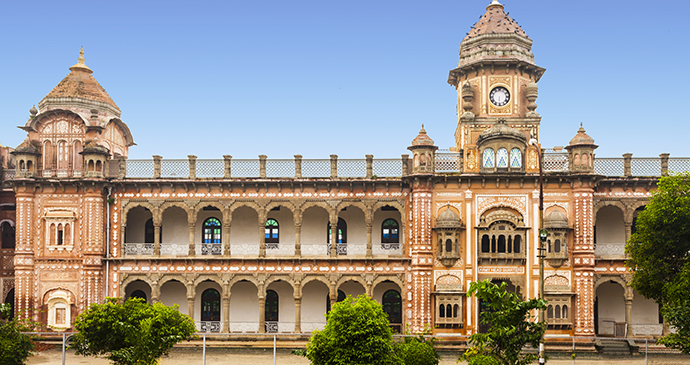 Jammu's Mubarak Mandi complex was once the royal seat of the region's rulers, and its architecture is a riot of European Baroque, Mughal and Mewari styles © saiko3p, Shutterstock

Marvel at Jammu's Mubarak Mandi, a spectacular former palace now overrun by monkeys and birds.
The Mubarak Mandi complex was the royal seat of Jammu's Dogra rulers from 1824 to 1925, when Hari Singh relocated to the new Hari Niwas Palace. The vast site, which includes the Darbar Hall, Sheesh Mahal, Hawa Mahal, Pink Palace and Royal Courts, is a smorgasbord of European Baroque, Mughal and Mewari styles. Sadly, however, the buildings are in extreme danger, already the victims of two earthquakes, more than 30 fires and decades of unforgivable neglect. A conservation programme is under way, but as large sections of the palace have already been gutted or collapsed, conservators are limited in what they can do. The monkeys have taken over, along with the birds.
One of the few operational buildings in the complex is the Dogra Art Museum, though this too is in need of damp-proofing, a clean and a lick of paint. The highlights of the collection are displayed in the Main Hall, a double-height room with internal balconies. We were particularly taken by the beautiful mural fragments removed from Reasi Fort, four 4th-century terracotta heads excavated at Ambaran near Akhnoor, and the large Kushan coin hoard. Look out also for the 107 12th-century coins found recently by prisoners gardening within the confines of Kot Bhalwal Jail. The rest of the museum is a bit disappointing, and the tour staff do little to bring it to life.
The Long Gallery on the first floor has an attractive carved wooden ceiling that is original to the building and a glass cabinet containing what is apparently a piece of elephant fossil, though you'll have to use your imagination. The adjoining room has a display of 19th-century paintings, unremarkable individually but pleasant enough as a group, and two sets of colourful doors salvaged from somewhere else in the Mubarak Mandi complex. The contemporary art gallery is best avoided unless you like your art either banal or hideous. A dozen or so pieces of sculpture on plinths are arranged around a sunken bath alongside two truly monstrous larger works and a few unremarkable paintings.