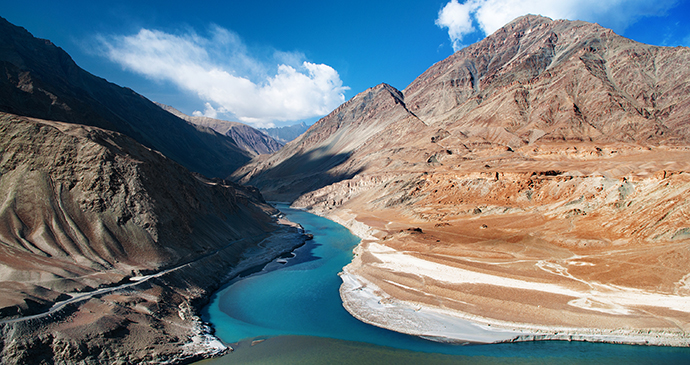 The mighty Indus River snakes through Ladakh and its rapids are ideal for white-water rafting © szefei, Shutterstock
White-water raft through the tumultuous rapids of the Indus River.
Northwest of Leh, National Highway 1 (NH1) runs parallel to the River Indus, sharing the valley that the mighty river has carved out for itself. The northern part of Ladakh is a natural adventure playground.
Visiting adrenaline junkies can pit their strength and skills against the rivers while white-water rafting and kayaking, or explore yet more of the trekking routes linking the Ladakh and Zanskar ranges. Driving on the main roads is straightforward enough, but get away from NH1 and you'll be testing your off-road skills, fording rivers and traversing rocky ground.
White-water rafting on one of Ladakh's many rivers is a popular attraction and easily arranged from Leh. Although many of the regular travel agents do offer rafting packages, you'll have a better experience if you arrange it through a specialist operator.