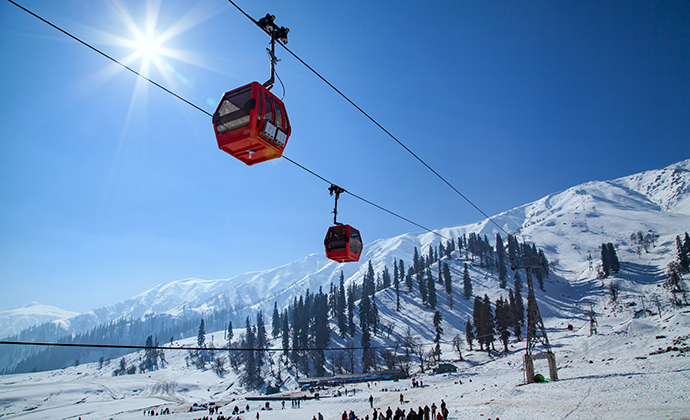 Gulmarg is India's winter sports capital; its gondola transports skiers and snowboarders up to a height of 4,267m © ImagesofIndia, Shutterstock
An idyllic place to walk and picnic in warm weather, Gulmarg is coming into its own as India's premier winter sports destination in the colder months.
In the 1500s, Gaurimarg ('the fair one') was renamed Gulmarg ('meadow of flowers') by Sultan Yusuf Shah. Both names are equally apt; set among rolling hills and thickly carpeted with flowers throughout spring and into summer, it's an idyllic place to walk and picnic when the weather is warm. It's in winter, however, that Gulmarg comes into its own, as India's winter sports capital and the centre of the country's fledgling ski industry. The gondola is open year-round and from November to March transports skiers and snowboarders 5km up the mountainside to a height of 4,267m (so proceed with care if you've just come straight from the plains of India), and you can ski all the way down to Tangmarg. There are some excellent accommodation options (albeit all at the more expensive end of the spectrum) to choose from, and a lively crowd of youthful skiers (both Indians and foreigners) means you'll have plenty of playmates with whom you can enjoy the après ski.