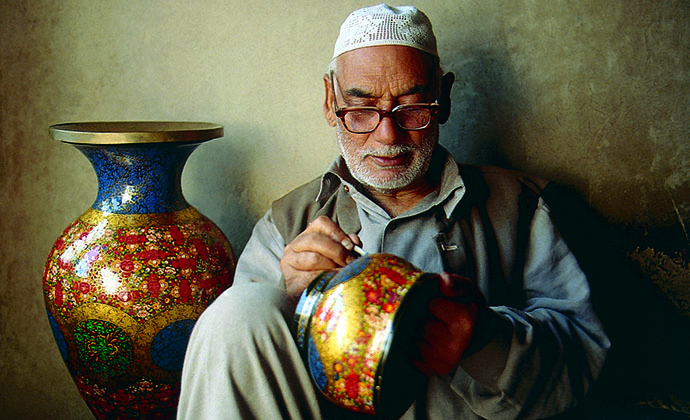 Buying handicrafts from artisans helps to support the local economy in a positive way © J&K Tourism
The single most important thing you can do for J&K is to visit, to explore, to spend your money, and to share your positive experiences with others when you return home.
If you are keen to volunteer, there are plenty of opportunities to do so. One particularly effective NGO in Ladakh is the 17000ft Foundation, which provides improved infrastructure, teacher training and volunteer teachers to schools in the remotest parts of the district. It is also possible to arrange teaching placements at many of the monastery schools, including at Likir. Volunteering opportunities are also available on a variety of projects with the Students' Educational and Cultural Movement of Ladakh and at the Mahabodhi International Meditation Centre.
J&K, and in particular the mountainous areas, has a fragile ecosystem and this needs to be recognised and protected by tourists as well as the local population. There is little capacity for recycling waste and so heaps of plastic bottles, tin cans, etc already mar the landscape on the outskirts of towns and in some popular picnic spots. Do not add to the problem. Reduce the plastics that you use and carry your non-biodegradable waste away with you. Water and electricity are also in short supply, so be sparing with what you use.