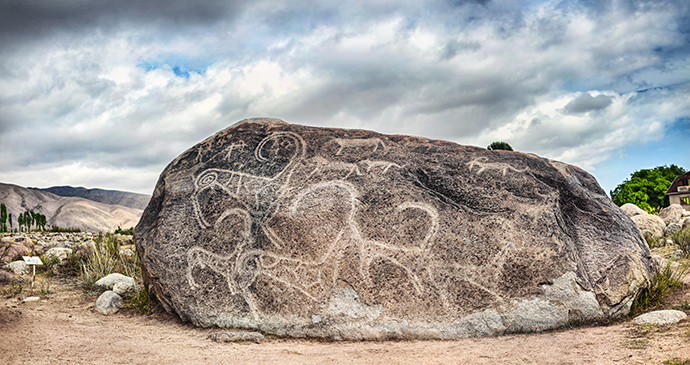 The petroglyphs at Saimaluu-Tash are the most spectacular in all of Kyrgyzstan © Pikozo.kz, Shutterstock
Meaning 'embroidered' or 'patterned stones' in Kyrgyz, Saimaluu-Tash is the most remote and most spectacular collection of rock paintings in the country.
The name means 'embroidered' or 'patterned stones' in Kyrgyz and this is not a bad description for what is the most remote, and certainly the most spectacular, collection of petroglyphs in the country. Here, high on a lonely alpine plateau, are an estimated 11,000 petroglyphs scattered over the slopes of two glacial moraines that have been named by archaeologists, not very imaginatively, as Saimaluu-Tash One and Saimaluu-Tash Two. The larger of the two, Saimaluu-Tash One, measures 3km in length.
The petroglyphs, which are etched onto shiny basaltic stone, date from at least as early as 2000BC in the Bronze Age, and may well be even older. They most probably represent votive offerings that were brought to this sacred site from the valleys below. The site itself has undoubtedly long been considered to be sacred and it is believed the small pond that lies in the middle of the lower gallery was frequented by shamans.