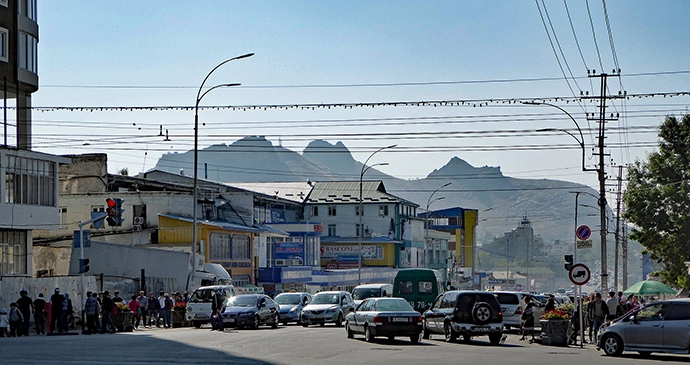 Despite being smaller than Bishkek, Osh often feels like the busier city © Hans Birger Nilsen, Wikimedia Commons

Kyrgyzstan's 5,000 year-old second city is home to a Muslim pilgrimage site as well as a fascinating ancient bazaar.
Although you would not know from looking at it, Osh is Kyrgyzstan's oldest city. As Kyrgyzstan's second-largest city, with a mixed population of around 250,000, it is considered to be the capital of the south and has served as the administrative centre of the oblast since 1939. It is a lively city which, despite its smaller size, can seem busier than Bishkek. It has the largest mosque in the country and one of the largest and most crowded markets in all of central Asia. Central to the city is the steep outcrop of Solomon's Throne, which is an important Muslim pilgrimage site, as well as a popular place for locals and visitors alike to enjoy the view over the city. The city has a strong Uzbek presence and in many ways looks westwards towards the Uzbek Fergana Valley rather than north to the capital Bishkek. The Uzbekistan border is just a few kilometres from the city, a ten-minute marshrutka ride away. However, international wrangling between Kyrgyzstan and its immediate neighbour has meant that from time to time border crossings are not always as straightforward as they might be.