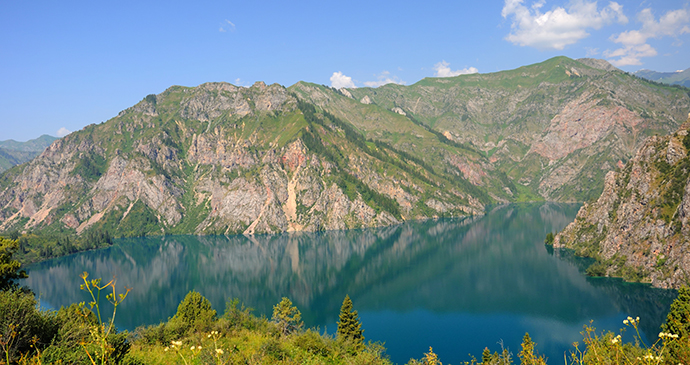 While Lake Sary-Chelek is somewhat difficult to reach, it is definitely worth the effort © Djusha, Shutterstock
One of Kyrgyzstan's true gems, this fairly small, alpine lake set amid conifer, relic fruit and a nut forest is well worth the effort.
Lake Sary-Chelek is one of Kyrgyzstan's true gems – a major draw that is a little difficult to reach but, as most visitors seem to attest, is well worth the effort. Sary-Chelek (literally 'Yellow Bucket') is a fairly small, alpine lake set amid conifer, and relict fruit and nut forest at an altitude of 1,873m. The lake is just one part of the Sary-Chelek Biosphere Reserve which has seven lakes in total and protects more than a thousand species of plants, 160 birds and 34 mammals, including rarities such as bear, lynx and snow leopard.
Sary-Chelek is relatively small: just 7.5km long and 1,500m wide at its broadest point, with a maximum depth of 234m. The lake is fed by the Sary-Chelek River, in addition to numerous other streams and underground sources, and its outflow travels into the Kara-Suu. The hollow that the lake sits in was probably created by earthquake activity hundreds of years ago, although the precise geomorphology of its formation is unclear. The name 'yellow bucket', although hardly romantic, is perfectly apt, as in early autumn the turning leaves of the forest that surrounds the lake positively glow with golden-yellow light that contrasts sharply with the deep blue-green of the water.