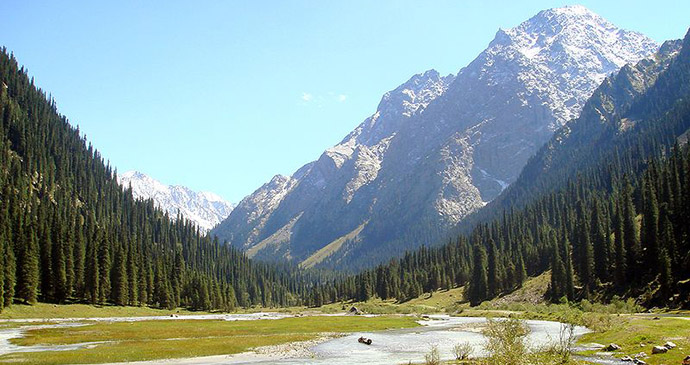 The Karakol Valley is one of the prettiest in Kyrgyzstan © Ondřej Žváček, Shutterstock

With its gorgeous scenery, this stunning valley is an ideal location for independent campers and trekkers alike.
This stunning valley lies immediately south of Karakol along the river of the same name that passes through the town. The valley has a ski base, which is visited by local and Russian skiers in winter, while in the summer it is a popular area for trekkers and campers. There are no villages anywhere along the valley, nor any facilities for tourism other than a summer tent camp, but this makes it all the more desirable as an ideal location for independent campers who bring all they need with them.
The Karakol Valley has been awarded national park status and there is an entrance fee to pay (250som for foreigners, 50som per vehicle). Beyond the entrance, a track leads up to the left along the course of the Kashka-Suu tributary to reach the ski base. The dirt road continues along the river to reach a wooden bridge across the river, where the track continues along the valley with the river to the left. The steep slopes here are covered with stands of spruce and the distinctively pyramid-shaped Tien Shan fir, while the grassy fringe beside the track is carpeted with herbs and wild flowers.