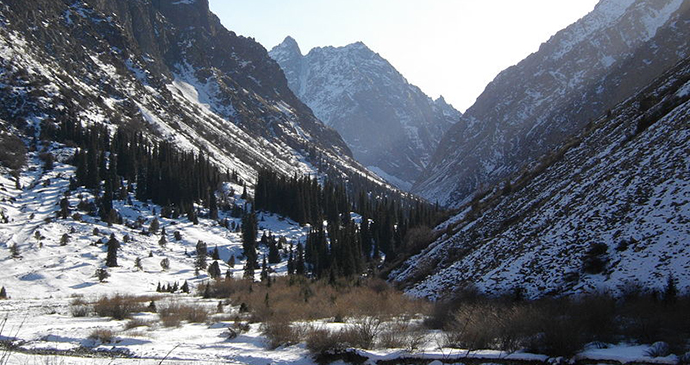 Ala-Archa National Park's proximity to Bishkek is part of what makes it so popular © Mass Ave 975, Wikimedia Commons
This rugged yet accessible valley provides an excellent hiking range just a stone's-throw from the Kyrgyz capital.
This rugged, yet accessible, valley and gorge lies immediately south of the capital. Most of it belongs to the 120,000ha Ala-Archa National Park, created in 1976, and is nominally protected to some extent. The park has everything that you might expect of an alpine zone – snow-capped peaks, fast-flowing streams, alpine meadows, pine forest and steep crags – and it can seem remarkable to find so much unadorned nature so close to a capital city. Having said this there are less pleasant reminders that the metropolis is nearby, mostly in the form of litter, but this is only around the trail heads. It is this very accessibility that is actually the park's greatest draw, especially to foreign expatriates and Bishkek's middle classes who come here to picnic. As well as a convenient spot for picnicking weekenders, the park is also a magnet for hikers, skiers and mountain climbers.