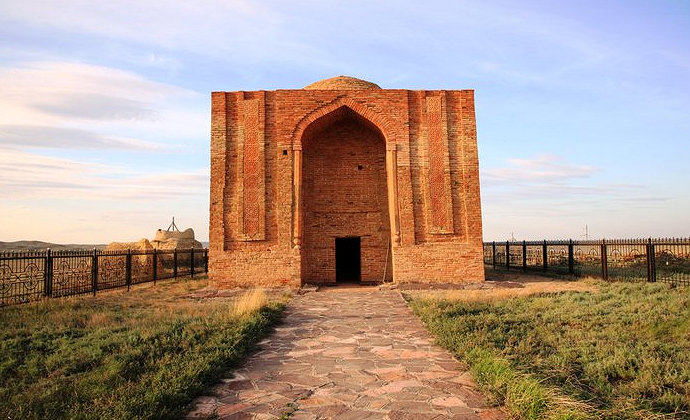 Ulytau is home to several mausolea, including that of Alasha Khan, the legendary founder of the Kazakh people © Yerlan Karin CC-BY
Hike in the Ulytau Mountains, considered by many to be the Kazakh spiritual homeland.
Ulytau, the 'Great Mountains', rise up from the surrounding steppe some 130km to the northwest of Zhezkazgan. This ancient granite massif is not particularly high: its highest peak, bearing the name White Mosque, reaches a height of 1,131m. But this range, located at the geographical centre of Kazakhstan, has a place at the heart of the development of the Kazakh people. The mountains of Ulytau and the steppes that surround them are full of historical monuments: petroglyphs, barrows adorned with curious stone 'moustaches', and numerous mausolea. It is difficult to separate out the facts from the legends surrounding the area. On the peaks of the mountains here, they say, are buried Tokhtamysh, the great rival of Timur, and Edigey, the Emir of the White Horde who, as an ally of Timur, killed Tokhtamysh in 1406. Mausolea are ascribed to Alasha Khan, the legendary founder of the Kazakh people, and Jochi, son of Genghis Khan. The Kazakh tribes came together close to the Ulytau Mountains to inflict, in 1727, a crucial defeat on the invading Dzhungars at Bulanty to the southwest. It is said that many Kazakh khans were crowned here, a ceremony that involved being raised aloft on a white felt rug. Well-to-do Kazakhs come to these mountains to spend time in an environment considered to be particularly favoured for its cosmic energy, and to eat mutton from local sheep, its taste highly regarded because the local ovine diet is so strong in highly aromatic wormwood. It is no surprise that a Kazakh band aiming to create a sound fusing rock music with the strains of traditional Kazakh instruments should choose Ulytau as its name.
While there are plans to encourage tourism development in the area, there is as yet very little in the way of tourist infrastructure. A couple of buses a day make the journey from Zhezkazgan to the village of Ulytau, but to get to most of the historical sights you'll either need your own transport, or to come to a deal with a taxi driver in Zhezkazgan.