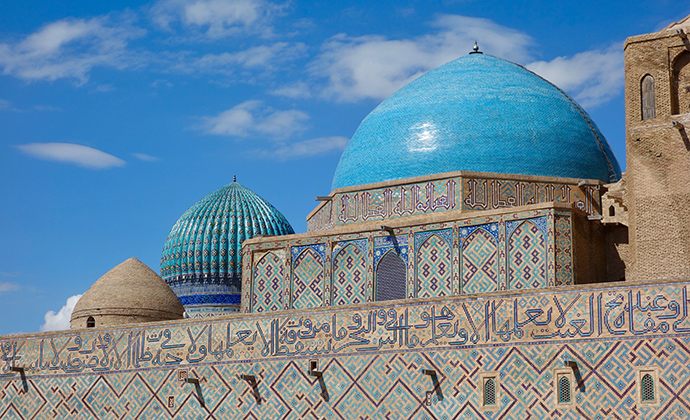 Turkestan's Khoja Ahmed Yassaui Mausoleum is without doubt Kazakhstan's finest building © Maria Oleynik
Follow in the footsteps of the Silk Road merchants at Turkestan, medieval trading centre and present-day place of Sufi pilgrimage.
Lying between Kyzylorda and Shymkent, the Silk Road town of Turkestan (Turkistan in Kazakh) contains Kazakhstan's most impressive monument and most important pilgrimage site, the Timurid Mausoleum of Khoja Ahmed Yassaui. The town celebrated somewhat arbitrarily in 2001 its 1,500th anniversary. Its origins lie in the settlement of Shavgar, which flourished in the 9th and 10th centuries as a centre for trade and handicraft production. Shavgar appears to have declined in the 12th century, in favour of Yassi, which was probably initially a suburb or satellite town. Yassi's fortunes in turn were linked to the presence here of a revered Sufi mystic, Khoja Ahmed Yassaui, and became a place of pilgrimage on his death.
The town grew further in importance following a visit to Yassaui's decaying grave by Timur, known in the West as Tamerlane, in 1397. Timur ordered the construction of a magnificent new monument befitting a saint of Yassaui's stature: a multi-functional building that would incorporate a vast and ornate mausoleum. His motivation was probably in part philanthropic, but in part also to help promote his rule in the area. Detailed designs were drawn up, and arrangements were also put in place for the funding, through voluntary donations, of a staff comprising a preacher, two Koran readers, a property manager, water carrier, gardener and, mysteriously, a scavenger. Construction began in 1399, but the building was left unfinished on Timur's death in 1405. The main portal and some of the interiors remain today in an incomplete state, but the building still attains a great beauty through its size, turquoise domes and stunning decorated tilework.
Details of the life of the man on whom Turkestan's importance is based are relatively sketchy. Khoja Ahmed Yassaui was born in Sayram, at that time known as Ispijab, probably around 1103. His father, Sheikh Ibragim, was a well-known local figure, but Ahmed was orphaned at the age of seven, and he moved to Yassi with his elder sister, his only remaining close relative. His teacher was the venerable Arystan Bab, also known as Arslan Bab (both names meaning 'lion'), according to legend a former companion of the Prophet Muhammad. On the death of Arystan Bab, Ahmed moved to Bukhara, where he became a disciple of Sheikh Yusup Hamadani, an important figure in the development of Sufism in central Asia. Ahmed elected to return to Yassi, taking the name Ahmed Yassaui, becoming a highly successful propagator of Islam, based around a mystic Sufi tradition. He used the local Turkic language in his religious poetry, which made it accessible to ordinary people, and it proved hugely popular. The poetry was much later collected in a book, Divan-i Hikmet, the authenticity of which is doubtful. When Yassaui attained the age of 63, that reached by the Prophet Muhammad, he retired to an underground cell, where he lived in prayer and contemplation, explaining that he had no wish to live a worldly life longer than that of the Prophet.
Between the 16th and 18th centuries Yassi, which became known as Turkestan, became a capital of the Kazakh Khanate. The Kazakh leaders chose Turkestan in large measure because of the spiritual significance of the town; allowing them to claim the Islamic heritage of Khoja Ahmed Yassaui, as well as at least part of the legacy of Timur. Many Kazakh khans and other senior figures were buried here, reflecting the traditional belief that burial close to the grave of a saint would provide protection in the next world. Among the first burials here linked with the khanate was that in 1519 of Amanbike, daughter of Janybek, co-founder of the Kazakh Khanate. The city was also the scene of ceremonies of the elevation of Kazakh khans to their throne, among them that of Ablai Khan in 1771. By tradition the act of coronation involved lifting up the new khan on a white felt mat.
In the late 19th century, during the Russian conquest of central Asia, one of Russia's most celebrated painters, Vasily Vereshchagin, served at the court of Konstantin Petrovich von Kaufmann, the first Governor-General of Russian Turkestan. Vereshchagin spent several years in the region producing a fine collection of paintings entitled the 'Turkestan Series'. On display in Moscow in the State Tretyakov Gallery, these offer an insight into the everyday life of the region and its people amid Russia's military campaigns.
Turkestan today is a major Sufi pilgrimage centre. By local tradition, three pilgrimages here are considered to equate to one to Mecca, and pilgrims far outnumber tourists. The town also houses the Kazakh–Turkish University named, of course, in honour of Yassaui.