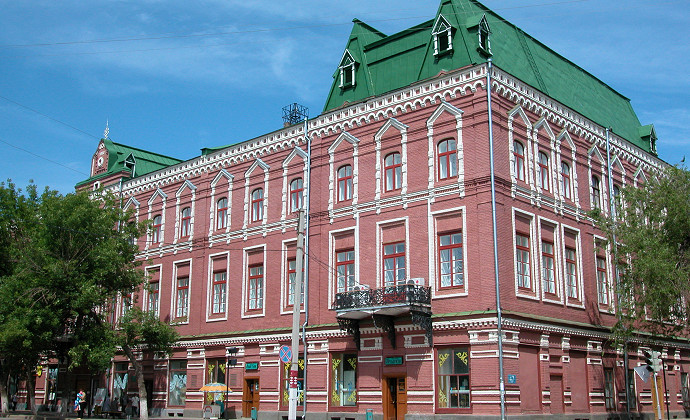 Oral is often still known by its Russian name of Uralsk © ArsenG
Originally a cossack settlement, Oral has the feel of a provincial town with some fine Tsarist architecture.
The capital of West Kazakhstan Region, the city of Oral (known in Russian as Uralsk) is one of the most historically interesting in Kazakhstan, though you do have to search hard among the Soviet concrete to find the remnants of this heritage. It was a centre of the Pugachev Rebellion in the 1770s, and takes pride in its status as the only city of Kazakhstan to have been visited by the Russian poet Pushkin. With some fine Tsarist architecture, it makes a good place for a short stopover.
Established by Cossacks in 1584 at the confluence of two rivers, the Ural, then called the Yaik, and the Chagan, the town of Oral, originally named Yaitskiy Gorodok, claims its formal year of foundation as 1613. Because of the prominent role played by the town in the Pugachev Rebellion, Empress Catherine the Great determined on the defeat of the rebellion that she would obliterate the name of Yaitskiy Gorodok from the map, and with it the memory of Pugachev. By a decree of 15 January 1775, she determined that the Yaik River would be renamed Ural, that the Yaitsk Cossack Host would henceforth be known as the Uralsk Cossack Host, and that the town would now be called Uralsk.
Under its new name, the town flourished. As it expanded northwards from its original core, smart new brick buildings appeared. It was the scene of considerable fighting during the Russian Civil War. The celebrated Red Army commander Vasily Chapaev was killed south of here, near the settlement now renamed Chapaev in his honour, while attempting to swim across the Ural River to escape White Army forces. A number of industrial enterprises, such as the Zenit weapons factory from Leningrad, were relocated here during World War II from more vulnerable cities further to the west, further promoting the growth of the town. The discovery of a major oil and gas condensate deposit at Karachaganak near Aksai in the eastern part of the region in the late 1970s provided a further significant boost for the economic development of Uralsk and its surrounding region. Uralsk had become the administrative capital of the West Kazakhstan Region when the latter was formed in 1932. This was renamed as Uralsk Region in 1962, but reverted to its original name in 1992. While the city is officially now known by its Kazakhised name, Oral, Uralsk is still widely used.