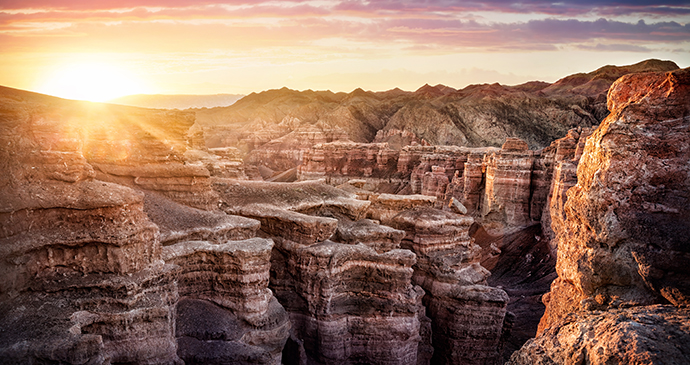 The canyons of Charyn National Nature Park are 300m deep in parts © Pikoso.kz, Shutterstock
Dare yourself to take on some challenging white-water rafting in the 80km-long Charyn Canyon.
The fast-flowing Charyn River, a tributary of the Ile, forms an attractive canyon some 80km in length during its northward journey from its headwaters in the Tian Shan Mountains across the arid semi-desert east of Almaty. The depth of the canyon reaches as much as 300m where it cuts through the Toraigyr Mountains on its journey. Tour operators bill Charyn as a miniature version of the Grand Canyon. To get here, take the main road east from Almaty, through the small town of Chilik. Around 190km east of Almaty, turn left on to a signposted track. You reach the canyon after a further 9km, and having passed a checkpoint at which a small fee is taken for your entry into the Charyn National Nature Park. From the parking area here, a path heads down into the canyon. Another path, 1km to the north, is steeper but more picturesque. Almaty-based tour operators offer lengthy day trips to the canyon, sometimes combining it with the Kolsai Lakes. The Charyn River offers some challenging white-water rafting and canoeing. It is also home to a fish endemic to the region, sporting the rather picturesque name of the naked osman.
The place the tour groups head for in this part of the canyon is a dry side ravine known as the Red Canyon or Valley of the Castles. Some 3km long, and up to 100m deep, with a path running along its base, the red sandstone walls of this gorge offer natural sculptures of dramatic form. You will bake here at the height of summer: spring and autumn are ideal times to visit the canyon.
Downstream from this part of the canyon is a remnant of a great forest of Sogdian ash that stretched across this area after the last Ice Age. The ribbon of relict forest that has survived is a 25km stretch, sheltered by the canyon. A nature reserve was established here in 1964 to help protect the grove, one of the few large populations of Sogdian ash found anywhere in the world, and this now forms a specially protected area within the Charyn National Park. It is reached via a different road from that for the Valley of the Castles: coming from Almaty turn left on the road towards Shonzhy and Zharkent a few kilometres southeast of the village of Kokpek. Other trees found in the dense patches of forest along the banks of the river include willow, poplar and barberry.
Some scholars believe that the name of the river comes from the Uyghur word 'Sharyn', meaning 'ash tree'. Others suggest that it derives from the Turkic root 'Char', which suggests a precipice. The two options are rather fitting, since precipices and ash trees are two of the key components that make Charyn such a fascinating place.