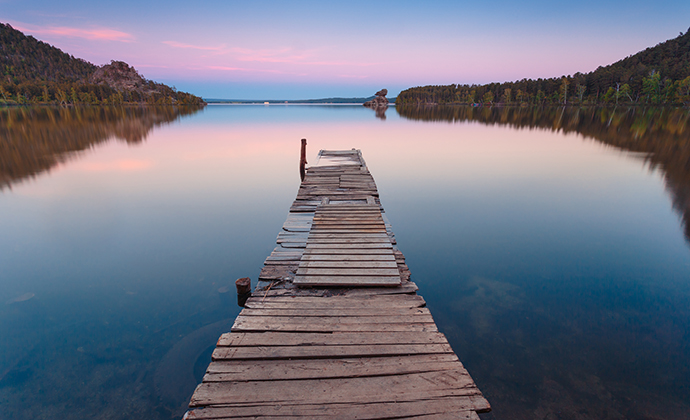 Several beautiful lakes are found in the Borovoye region © Stone36, Shutterstock
The tranquil forests, lakes and craggy hills of Borovoye offer pleasant hiking opportunities and impressive scenery.
This landscape of lakes, hills, weathered granite outcrops, and pine and birch forests offers some of the most picturesque scenery in northern Kazakhstan, and attracts gushing tourist agency labels such as 'Kazakhstan's Switzerland' and 'the pearl of Kazakhstan'. Named, since 2000, the Burabay National Nature Park, the western boundary of this landscape is formed by the boomerang-shaped Kokshetau Mountains, which run roughly north to south. The 'Blue Mountains' do indeed take on that hue when viewed from afar across the surrounding steppe. Around the foothills of the range lie several lakes, and most of the area's tourist infrastructure is found along the shores of Lake Schuche and Lake Borovoye. The Kokshetau Mountains are covered with forests, and the thick carpet continues across the lower hills lying to their east.
The area already attracts large numbers of domestic tourists and visitors from those parts of Russia abutting the Kazakhstani border, but there are ambitious plans to develop tourism further given Borovoye's location as the natural weekend playground for Astana residents. (There are few other obvious tourism options within reasonable distance of the capital.) Since April 2007, the district in which Borovoye is located has been one of only two (the other is Lake Kapchagai) in Kazakhstan in which gambling establishments have been permitted, as the authorities seek to move Kazakhstan's casinos out of the cities and into new purpose-built resorts. Given that the distinctive landscape of this region covers a relatively small territory, it must be hoped that any future development plans take account of Borovoye's fragile environment. Some new buildings already give rise to concerns on this score. In addition, the planned Burabay Golf Resort will effectively block public access to large sections of Lake Schuche; a ski jump, under construction at the time of research, risks further commercialising the area.