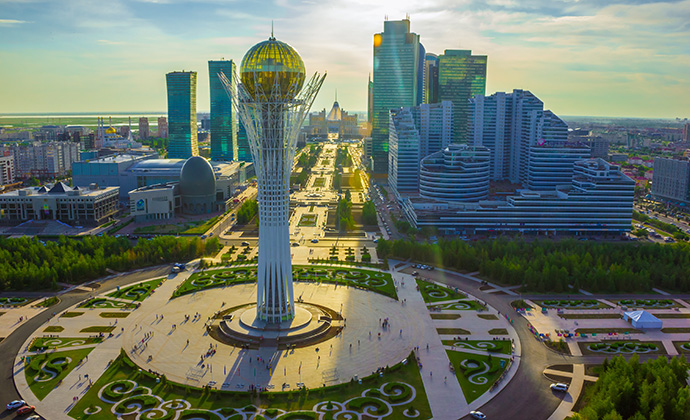 Astana is not short of eye-catching architecture © EXPO-2017 National Company
The Kazakh capital Astana is the ultimate boomtown, its modern architecture mushrooming up from the surrounding steppe.
Astana is an urban expression of Kazakhstan's post-independence achievements, a statement of an increasingly wealthy and confident country. The city is rich with the symbols of the post-independence regime: a tower based around the imagery of the Kazakh 'tree of life', a pyramid to celebrate peace and inter-religious harmony and, in a nod to the nomadic history of the Kazakhs combined with a modern consumerism, a giant transparent tent which shelters a shopping and entertainment complex from the extremes of this steppe climate. The politicians and officials working in the city, which has been Kazakhstan's capital only since 1997, are housed in apartment complexes of increasing architectural audacity: shimmering to represent the northern lights, or aping one of the Stalinist-era 'Seven Sisters' skyscrapers in Moscow. To get a clear sense of Kazakhstan's aspirations, you should come here.
The capital of Kazakhstan since 1997, Astana has grown at a staggering rate. With a population of little more than 300,000 when it inherited the mantle of national capital from Almaty, it grew to beyond half a million in just a few years. Plans that Astana would top one million people by 2030 have been revised forwards. President Nazarbayev wants Astana not just to grow, but also to be special, a sparkling symbol of independent Kazakhstan. World-renowned architects have been enlisted to help build the city: its general plan designed by Japanese architect Kisho Kurokawa; some of its most eye-catching buildings by Norman Foster. The rise in the cost of borrowing precipitated by the US sub-prime mortgage crisis in 2007 slowed the building boom, but the skyline of Astana remains dominated by cranes as the new capital continues to take shape on the steppe. Its birthday is officially celebrated on 6 July, which also happens to be the birthday of President Nazarbayev. If you are travelling to Kazakhstan around this time, keep your eyes open for events in the city around this date.