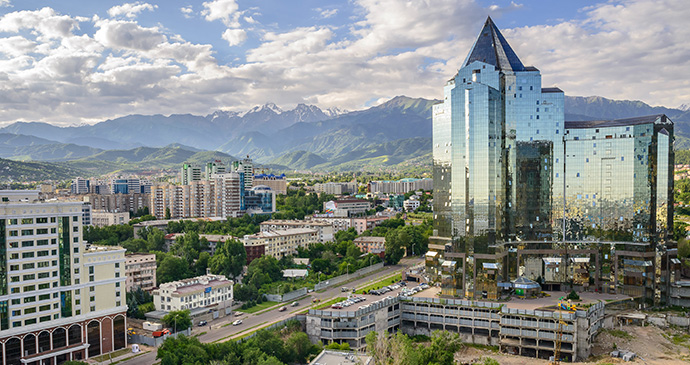 Almaty's modern cityscape is set against a striking mountain backdrop © EXPO-2017 National Company
Soak up the atmosphere in Almaty, Kazakhstan's most cosmopolitan city.
Almaty may have lost its status as the capital city of Kazakhstan in 1997, but it remains the largest and most cosmopolitan city in the country, and Kazakhstan's financial, cultural and educational hub. Most international flights arrive in Almaty; it has the widest range of hotels, restaurants and bars you will find in Kazakhstan. You will hear more Russian spoken here than Kazakh, although ethnic Kazakhs make up 51% of the population: Almaty is one of the places in which the broad ethnic diversity of Kazakhstan is most apparent, with expatriates working for the many foreign firms headquartered here adding to the mix.
There is no attractive 'old city': an earthquake in 1887 left just one brick building standing. But there are some interesting museums, attractive parks and intriguing buildings chronicling Almaty's Tsarist, Soviet and post-independence history. A stunning location adds much to Almaty's allure. The city sits at the northern foot of the Zailysky Alatau range, the northernmost line of the mighty Tian Shan Mountains. The peaks, rising above 4,000m and snow-capped for much of the year, offer a beautiful southern backdrop to the city, though the smog that sometimes hangs over the urban area all too frequently has the effect of spiriting the mountains away. The Zailysky Alatau are easily accessible: the starting points for some excellent trekking routes amid Tian Shan firs and up to mountain passes and glaciers are just a few minutes' drive from the centre of town.
The city itself is built on a slope, with the highest ground to the south, at the foot of the mountains. Across this slope meander several streams – the Bolshaya Almatinka, Malaya Almatinka and Esentai – each fed by snow melt from the mountains. The water from these streams fuels an irrigation system dating from the 19th century, with channels known as aryks running alongside the grid-patterned city streets. These provided the water to support lines of poplar trees, which give Almaty, fondly referred to as the Garden City, a verdant appearance. According to a local legend, in the late 19th century, young men were allowed to get married only after having planted 15 trees. The streams also feed the city's 125 fountains and since 2007, Almaty has been celebrating 25 May as the Day of Fountains. This is altogether a city that can beguile, whose easy-going charms lure visitors to stay longer than planned.