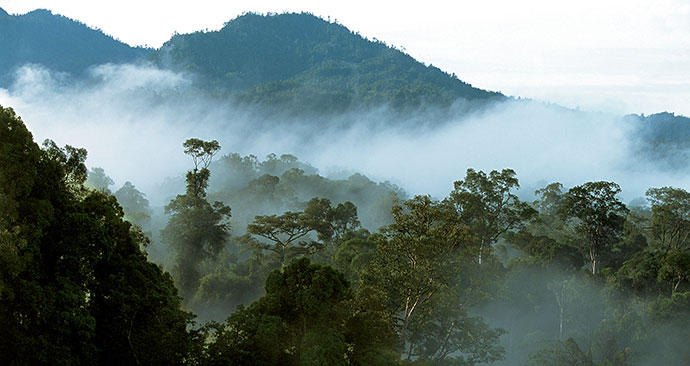 Mist rolling over the mountains of Ulu Temburong National Park, Brunei © Sarawaktourism
Meandering through a network of waterways, mangrove and tropical rainforest, you will enjoy a cultural immersion as you pass through the town of Bangar and witness the incredible boating skills of the Iban people.
Referred to as the 'green jewel', the 50,000ha rainforest within the huge Batu Apoi Forest Reserve is Brunei's only national park. The park spills into the 'Heart of Borneo' conservation area, which sweeps in central forests of Sabah, Sarawak and Kalimantan. The Temburong District, in northern Brunei, is a major rice-growing area, producing nearly half the country's harvest. It is home to a multi-ethnic mix of Iban, Murut and Malay people. The journey to get there is more than half the fun – the boat speeds through wide bays and mangrove forests full of proboscis monkeys, then trespasses briefly on Malaysian territory before swinging back into Brunei.