The Tutong District is largely rural with hillier rainforest and lake reserves inland, with some longhouse territory bringing together people from the Dusun, Iban, Kedayan and Tutong tribes.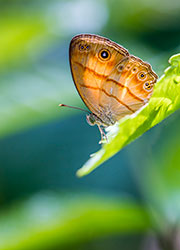 Barely 40km from the capital, the town of Tutong (also known as Kuala Tutong) lies among coconut palms near the Tutong River. (Kuala, by the way, means 'river mouth' and has nothing to do with Australian marsupials.) There are several kampung named Kuala along Brunei's estuary-specked coast. The Tamu Tutong Kampung Serambagun is a daily open-air market held 1km from the town centre, selling lots of local fruits, vegetables and handicrafts. Many vendors come from the rural hinterland to buy and sell their produce.
Pantai Seri Kenangan – 'the unforgettable beach' – is a popular recreation spot (fishing, swimming, picnics) five minutes' drive from Kuala Tutong Town. Located on a narrow spit of land between the South China Sea and the Tutong River, it has beach chalets, picnic pavilions, restaurant and food stalls. From here, you can also take a trip on the Sungai Tutong.
Situated 27km inland from Tutong Town, along mostly unsealed roads, is Tasek Merimbun, a serpentine freshwater lake mirrored with blue sky and cloud reflections. Surrounded by peat swamp and grass marsh, the lake environment is both wildlife sanctuary, recreational park and research station, offering nature trails, an exhibition hall, butterfly garden, lakeside gazebos, rental boats and forest campsites Proclaimed an ASEAN (Association of Southeast Asian Nations) Heritage Park in 1984, some say it is the de facto fi rst national park, though is not gazetted as one. A wooden walkway leads through the belly of the lake to an islet, Pulau Jalundung, which somewhat paradoxically has picnic-table facilities – given the crocodile warning signs alongside! Other resident fauna includes the clouded leopard, whitecollared fruit bat, Bornean gibbon, giant squirrel, silver leaf monkey, pig-tailed macaque, sambar deer, honey bear, western tarsier, argus pheasant, hornbill, purple heron, pangolin and reticulated python.