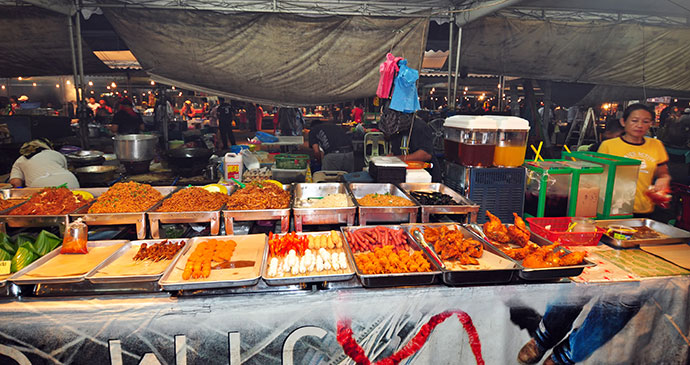 Try local cuisine at a fraction of the price © Jan S., Shutterstock
On Friday and Sunday mornings, the Gadong marketplace blooms into a flower market, the pasar bunga.
The renowned Gadong market is a food-only, night-time affair – an outdoor eating theatre with the best range of food stalls in the city. The several dozen stalls fire up from 17.00 until midnight. Held in a vast car park near the 'wet market' in the Gadong District, it is one of the best pasar malam (night markets) in the whole of Sarawak, Sabah and Brunei. Meticulously packaged portions of rice wrapped in banana leaves are a market mainstay; the trays of pyramid and fingershaped nasi lemak contain rice filled with chicken, beef or anchovies and topped with spicy sambal sauce. Nasi katok is another popular rice dish.