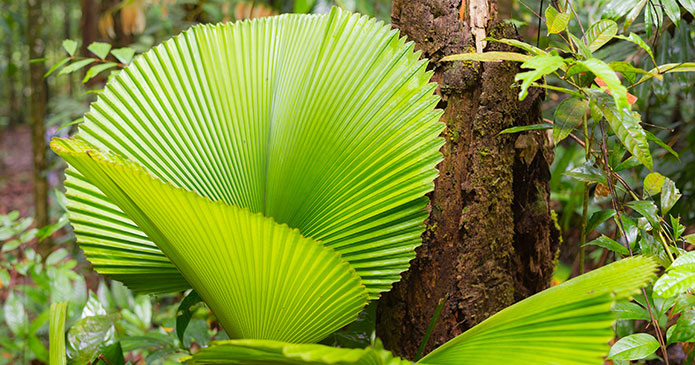 Plants of Brunei's lowland rainforest © Fabio Lamanna
Driving through Brunei you are never short of recreational and picnic spots and places to stretch the legs. On the coast side of the Muara–Tutong Highway is the Sungai Liang Forest Reserve, some 70km south of Bandar Seri Begawan (turn left at the Sungai Liang junction and proceed 450m along the Jalan Labi road to the park's entrance on the right). Here you will find a canopy walk and several other well-marked trails of varying grades through lowland rainforest. A further 25km or so along Jalan Labi is the Luagan Lalak Forest Recreational Park, whose alluvial freshwater swamp fills up like a lake in the wet season. From here, a steep 2km trek leads to the Wasai Wong Kadir waterfall. The Labi District is home to Iban people and there are chances to visit their longhouses along the way.
The oil coast starts in Seria: there is an Oil and Gas Discovery Centre, an interactive museum of oil history and technology, and the hard-to-miss Billionth Barrel Monument – a blend of Islamic tiles with industrial architecture. Kuala Belait is a town grown up on oil and a foreign workers' community, which has added a cosmopolitan touch to the place. Loved by expats, it has a bit of an R&B edge – someone even wrote a love song about Kuala Belait. Entertainment choices beat those found anywhere else outside of the capital, and locals enjoy a good quality of life. For jogging and family recreation, they head to Pantai Lumut, a secluded beach 10km from Seria off the coastal highway. Those looking for some serious partying should do as the locals do, and cross the border to the lively town of Miri for the weekend.