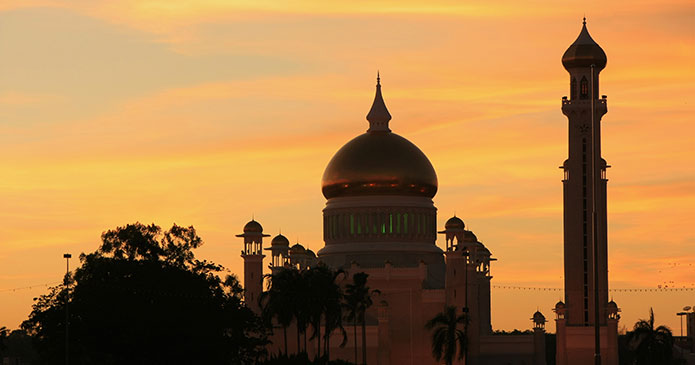 Sultan Omar Ali Saifuddin Mosque © Don Mammoser, Shutterstock
Bandar Seri Begawan, Brunei's capital, offers an intense potpourri of Islamic faith, river tranquillity, royal riches, mosque silhouettes, Malay culture and indigenous cuisine.
Few people have heard of Brunei's capital city before visiting, and it's hardly the catchiest of names. Fortunately, everyone calls it BSB. Known as Brunei Town – Pekan Brunei – up until 1970, the idyllic-sounding replacement of Bandar Seri Begawan (roughly translated as 'city of the glorious retiree') honours the 28th sultan, who took this title when he abdicated in 1967. It is a fascinating city – on the one hand, you feel you are in a place entrenched in trading history and Islamic exoticism, while on the other, is the emerging face of a 'modernised capital'. The much-publicised 'lavish adornments, gold towers, sparkling fountains and colourful mosaic tiles' are scattered about the city, from the riverbank area to the new modern districts. There is no historic mass of buildings as the old town and its colonial edifices were bombed by the Allies during World War II.
The city spreads out over 16km from the downtown area, which is hemmed in by riverside recreational areas, state-owned land, museums and ministries. When the lights go out, so does most of the action. At 18.00 all public transport stops, and locals head for their favourite evening spot as the sun sets over the river. With the Muslim chants and the drone of cicadas resonating through the city, the country's full name becomes very fitting – Brunei Darussalam, 'Brunei, abode of peace'.
Once you get past the logistical challenges and locate the most animated tamu (markets), the museums and mosques, the gorgeous green spaces and nearby beaches, you can join the locals and enjoy a high quality of life for a few days as well as some rich cultural experiences.