At a staggering 2km in length, Deer Cave (Gua Rusa) is the largest cave passage in the world – its main chamber has enough room for five St Paul's cathedrals!
Approaching the Malaysian–Indonesian border, the deep northern Sarawak interior is an isolated area of rivers and mountains. Encircled by pinnacles and peaks, the World Heritage Site of Gunung Mulu National Park lies in a corridor of lowland rainforest criss-crossed by rivers and streams.
The 53,000ha park contains the largest limestone cave system in the world, formed from thousands of years of erosion. Since the beginning of a National Geographic expedition in 1977, over 300km of caves have been surveyed, though it is believed there could be at least twice as many more. Only four of the 25 caves and passages discovered are open to the public.
The park's 17 different habitats enclose primary lowland rainforest, limestone forest, alluvial forest, tropical heath forest, peat swamp and riparian forest. Between altitudes of 35m and 2,375m, it contains a staggering 3,500 plant species, 4,000 types of fungi, 80 mammals, 270 birds, 130 reptiles and amphibians, 50 fish types and 2,000 different bugs, beetles and butterflies. Like Gunung Kinabalu National Park, it's an entomologist's dream, with hundreds of distinctive insect species including stick insects (Phasmids), camouflaged crawlies and butterflies (including Trogonoptera brookiana – Brooke's birdwing butterfly).
Indigenous people were the first naturalists of the region. Penan and Berawan people lived in the area for centuries, hunting and gathering.
The park is bounded by three mountains – its namesake Gunung Mulu, Gunung Api and Gunung Benarat. In the 1920s, a Berawan rhino hunter, Tama Nilong, discovered the southwest ridge of Gunung Mulu, opening the way for its successful ascent. Nilong led South-Pole explorer Sir Ernest Shackleton and an Oxford University expedition to the summit in 1932. The National Geographic Society subsequently lobbied for the creation of a national park in 1976, and the 544km² area opened to visitors in 1985. Listed as a World Heritage Site in December 2000, this is one UNESCO natural treasure where the negative effects are on show just as much as the positive ones. Threats to the environment other than logging include pollution from locals, tourist hordes, and slack tour companies.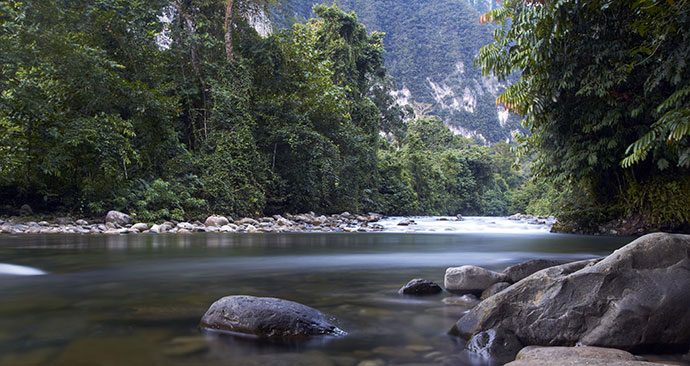 Gunung Mulu National Park © Kim Briers, Shutterstock
What to see and do
Caves
All caves are reached along solid timber-plank walks, and are visited by way of eco-lit cement paths. The 3km duckboard walk to reach Deer Cave and neighbouring Lang's Cave is a lovely experience in itself, passing rainforest, peat swamp, alluvial flats, streams and some spectacular limestone outcrops. Two hour return treks led by park guides leave daily. Clearwater Cave and Cave of the Winds are reached from park HQ by longboat along the Melinau River in about 15 minutes (RM27 pp return), or via the 4km Moonmilk Walk that hugs the riverbanks much of the way. The most impressive site for stalactites and other formations is Lang's Cave; the most amazing overall for its size and cavernous pit is Deer Cave (Gua Rusa). At a staggering 2km in length, this is the largest cave passage in the world – its main chamber has enough room for five St Paul's Cathedrals!
Caving
Speak with the park HQ or a tour organiser about adventure caving at Mulu. A park brochure outlines eight cave escapades from beginner to advanced level, lasting from 45 minutes to ten hours. Some popular caves have been fitted with fixed ropes on the short descents and traverses, but you are advised to bring your own equipment for anything beyond that. The Sarawak Chamber – on the way to Gunung Api – is compared to an aircraft hanger that could house 40 Boeing 747s. The day trip starts at 07.30, tracing the Summit Trail for about three hours.
Trekking
Without a doubt, trekking away from the park's HQ and hotels is the best way to feel the wonder of nature and get up close with the wildlife. There are many treks in the park: some require a guide, others can be done independently. Inform park officers before you do an unguided walk, as they are aware of weather conditions, including dangerously high water levels. Unguided treks include the four-hour Paku Waterfall through rainforest to a good swimming spot and the three-hour Long Lansat River Walk (RM180 for the longboat return transfer; 3 people minimum). The day walk to 'Camp 1' (guided) follows part of the Mulu Summit Trail and concludes at one of the camps used during the 1977 Royal Geographical Society expedition. The summit (guided) trek to the top of solitarystanding Gunung Mulu (2,376m) – Sarawak's second-highest peak – is a 24km climb, conducted over two to three nights, lodging in forest huts with basic cooking facilities (park guide costs are RM1,000 for 1–5 people). En route to Gunung Api (1,750m) the Pinnacles is a 50m-high series of razor-shaped limestone outcrops, pointing skyward and interlinked with several caves. This tough, guided climb requires at least one overnight stay at Melinau Camp ('Camp 5'). Most people stay two nights, depending largely on fitness levels. The first day's trekking takes in visits to a couple of Mulu's caves. Lodgings consist of sleeping mats in five open rooms, a self-catering kitchen (cooking equipment and utensils provided), and a dining room. You have to carry all of your own food, a sleeping bag and appropriate clothing. It costs RM250–800, depending on numbers. Accommodation costs RM22 per person per night; park guide RM400 for one to five people; longboat return RM370 for a group of one to four.
The popular tour-operated Headhunters' Trail combines 15km of deep jungle trekking over two days with longboat journeys and an optional longhouse stay. The route taken is that of Kayan headhunting parties who paddled up the Melinau River to Melinau Gorge before launching raids against the people of the Limbang area. This trip can also be done from Limbang to Mulu Park HQ. Another option is to add a night and include the Pinnacles climb (from Camp 5) in the trip.
Longboat safaris
A couple of trips visit Penan settlements along the Sungai Tutoh and Sungai Melinau rivers. These are very prescriptive though, so if you prefer to explore more independently then take your own day trip on the rivers.