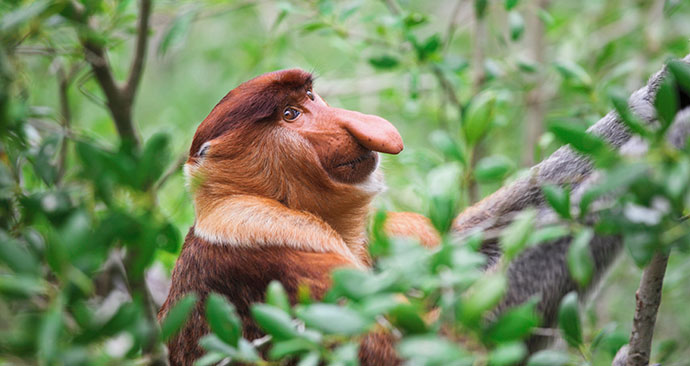 Proboscis monkey, or bekantan as it is known here © gualtiero boffi, Shutterstock
The park has a spellbinding quality – no doubt due to its astounding diversity of landscapes.
Sarawak's oldest national park and Malaysia's second oldest, Bako National Park (Taman Bako) was established in 1957. Covering 27km² at the end of the Muara Tebas Peninsula, adjacent to Santubong, the park has a spellbinding quality – no doubt due to its astounding diversity of landscapes. Bako has 25 distinct kinds of plant life and seven ecosystems. From Tanjung (Cape) Rhu to Tanjung Po, and all the beaches and bays in between, it sweeps through mangrove, heath, peat swamp and mixed dipterocarp forest, grasslands, sandstone cliff s and sea-eroded coastal formations. With a population of some 280 proboscis monkeys, the chances of sightings as you wander along the many well-marked trails are high, particularly early morning or towards dusk. Big-headed, bristly snouted pigs often wander right in front of the park HQ, scavenging for scrap food or wallowing in mangrove mud. The animals to be most wary of are the audacious macaque monkeys – known to raid many an unlocked room, as well as the canteen and dustbins, and even confront guests for food they might be carrying. 'Compulsive thieves' is how they are not-so-fondly described!
What to see and do
Wildlife
Bako is often tipped as the best park in Sarawak for wildlife experiences. Apart from the monkeys, there are otters, crabs, frogs and lots of lizards and snakes – lime-green whip snakes, green spotted paradise snakes, and Borneo's only dangerous snake, the triangular-headed pit viper. The wildlife experience starts among the mangroves of Telok Assam, park HQ area, where many of the 150 locally listed birds can be sighted.
Treks
Bako boasts one of Borneo's best networks of park trails – 16 well-signed walks from hour-long forest strolls (1.6km return) to full-day treks (21km return). Pick up a map and flora-and-fauna guide at the park HQ, where you must also register for longer forest forays. You may find one or more of the trails closed for maintenance. It's amazing how many kinds of vegetation you will pass in an hour as you climb up a couple of cliffs, and circumnavigate the inland of a bay. Both of the supposedly best trails for seeing the proboscis monkey – Telok Delima and Telok Paku – are about 2km return from Telok Assam (park HQ), with sightings also frequent in the mangroves near the park HQ. Pitcher plants are found along the red-arrowed Lintang Loop Trail (10.8km return).
Beach, bay and boat
Telok Pandan Kecil, reached via the 2.5km yellow-arrowed trail, is one of the nicest beaches, nestled within a secluded bay and rocky headland. To cut the journey, or to visit bays and coves further afield, you can charter a boat at park HQ and organise a pickup time with a boatman for a return journey. On the way, you will get to see the casuarina-topped limestone and sandstone cliffs and some of the coast's fascinating eroded rock features like the Sea Stack.