Eating and drinking
Accommodation
Eating and drinking
Traditional Armenian cuisine has much in common with Turkish, Persian or Arab cooking, all of whose empires at one time made subjects of the Armenians. It has much less in common with the cooking of Russia, which also ruled Armenia but whose cuisine reached the country relatively recently and is unknown in diaspora communities elsewhere in the world. Russia's culinary legacy can be seen on the shelves of any mainstream supermarket and on most restaurant menus, as well as in some forms of street food.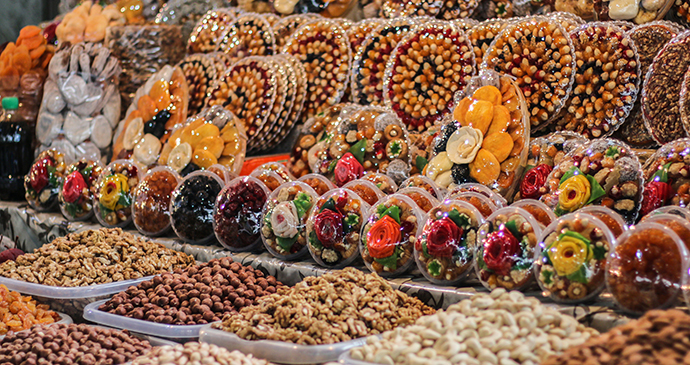 Armenia's markets are an excellent place to discover local specialities © Sun Shine, Shutterstock
The quality of Armenia's fruit and vegetables is notable, partly because Armenians grow what the climate favours, partly because the produce has not travelled from another continent, and partly because flavour is considered more important than size or appearance. Apricots, native to Armenia, are probably the most famous produce, but throughout the growing season you'll find market sellers and the ubiquitous roadside vendors piling their stalls with various other fresh produce.
The main meal is eaten in the evening. Bread will certainly be provided, usually lavash, but some restaurants, particularly in Yerevan, will also include a selection of regular leavened breads in the same basket. The meal usually begins with a selection of salads which can incorporate both raw and cooked vegetables, peas, beans, herbs, fruits, nuts, bulghur, eggs and meat. In season romaine lettuce is used but in winter cabbage is substituted. The main course is usually based on meat or fish. Fish is obviously less common than in countries which are not landlocked but common whitefish (sig) from Lake Sevan is sometimes available and also trout (ishkhan) from Armenia's rivers. Trout and sturgeon are available from the Armash fishponds and other fishfarms.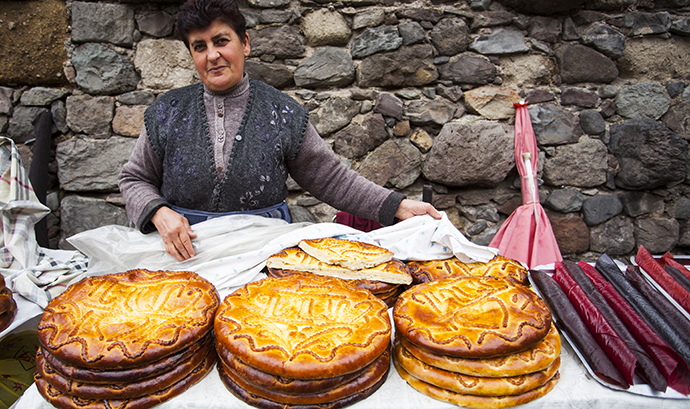 A local woman selling gata, one of the country's favourite sweet breads © yug, Shutterstock
Lamb (gar), mutton (vochkhar) and beef (tavar) are all popular and a huge variety of meat stews are cooked in domestic homes with ingredients from quinces (ms'sov serkevil) and apricots (ms'sov tsiran) to artichokes (ms'sov gangar) and leeks (ms'sov bras). These fascinating, delicious and often celebratory dishes are usually served with a rice pilaff (brndzov plav) or bulghur pilaff (dzavari plav), but the chance of finding one on a restaurant menu is practically zero. You will, however, find lots of barbecues (khorovats) using lamb, pork (khoz), beef, chicken or, occasionally, veal (hort), of which pork and chicken are usually the safest options.
Armenia is justly renowned for its brandy, its coffee and its spring water. Other drinks, such as some of the herbal teas – particularly the thyme (oorts) tea – are well worth trying, and the modernisation of the wine industry has led to a noticeable up-tick in the quality of local wines.
Accommodation
Yerevan has a vast range of hotels within the central area. Some visitors might prefer, particularly in midsummer, to stay outside the central district, where a few good options also exist. Expect to pay Western prices at the upmarket international hotels. There are also some less expensive hotels, mostly built in the Soviet era for tourist groups and since renovated. Small mid-range hotels are plentiful. Budget travellers have a number of hostels to choose from. An alternative is a homestay (bed and breakfast).
Outside Yerevan accommodation is improving and good hotels are available in most of the places tourists are likely to want to stay. Some of these hotels are newbuilds while others are renovated Soviet-era hotels. The latter vary from barely acceptable to excellent. There are still some Soviet-era hotels that were used to house refugees in the early 1990s, have never recovered, and are not recommendable unless you are on the lowest of budgets and there are no other options. Soviet-era hotels tend to be renovated and reopened floor by floor as resources become available. A chain of upmarket Tufenkian hotels has been developed in restored buildings. Though they are no longer the only upscale hotels rural Armenia has to offer, they aim to showcase Armenian history and culture with furnishings handmade by Armenian artisans from local materials in a modern yet distinctively Armenian style. There are four Tufenkian hotels – on Lake Sevan, in the Debed Canyon, in Dilijan and in Yerevan.
Travellers to the provinces looking for a more cultural experience are strongly recommended to stay at homestays (Armenia's term for bed and breakfast establishments, operated within family homes), which are available seasonally throughout the country and provide a real insight into Armenian family life – particularly as convivial and generally excellent meals can be organised. Giving your business to homestay owners is also a powerful means of spreading earning opportunities around the country and directly to those providing the service, as opposed to big businesses and middlemen – particularly important in a country such as Armenia where rural life is hard and income prospects limited. The one real snag is, of course, the language barrier: Russian, not English, is the second language for most rural Armenians. Many visitors enjoy homestays in spite of this, as Armenian hospitality is invariably warm, good-humoured and attentive.