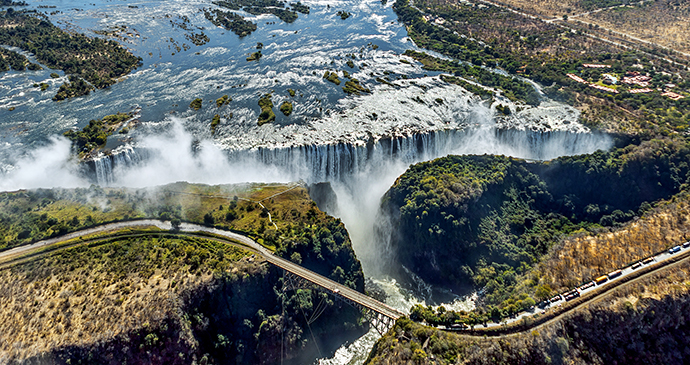 Rising mist and the steady roar of the Zambezi signal your arrival at Victoria Falls © Vadim Petrakov, Shutterstock
The town is famous for its magnificent waterfall, which is not only a World Heritage Site but is listed as one of the 'Seven Natural Wonders of the World'.
Every single commercial tourist itinerary to Zimbabwe includes Victoria Falls – and quite rightly too. The town is famous for its magnificent waterfall, which is not only a World Heritage Site but is listed as one of the 'Seven Natural Wonders of the World'. As if that wasn't enough, it supports a huge array of adrenaline-fuelled activities from the famous white-water rafting to bungee-jumping and gorge swinging. Tamer activities are also being popularised, including game drives, boat cruises, historical explorations and outdoor fine-dining experiences.
Even today, with Zimbabwe having suffered 20 years of political and economic strife, it's difficult to imagine a more complete African tourist destination than Victoria Falls (commonly referred to as 'Vic Falls' or simply 'the Falls'). As well as the adrenaline sports, both aerial and waterborne, the area offers a wealth of traditional wildlife-based and cultural attractions. While some visitors seek excitement others still prefer the genteel life of yesteryear, with starched waiters, afternoon tea on manicured lawns or sipping gin and tonics on a peaceful river cruise serenaded by grunting hippos.
Make no mistake, tourism has turned this far western tip of the country into a very un-Zimbabwe-like place, but its relative isolation coupled with its revenue earning reputation has left it less affected by the political troubles and interference experienced elsewhere in the country. It is testament to the commercial nous of the operators here that while the rest of the country has once again entered into economic freefall, many sectors of the Victoria Falls tourist industry have stayed buoyant, even flourishing. Although many small operators have fallen by the wayside, others have amalgamated or built on specific strengths and grown their markets.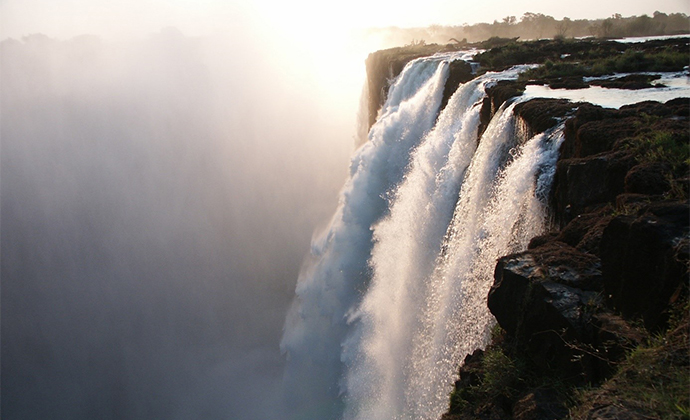 This stunning waterfall is a compulsory stop at any time of year © Simon Elton
They have of course been helped by their location, which has allowed daytrippers to flock in from neighbouring countries, notably Zambia and Botswana, sampling a little of Zimbabwe's treasures without actually staying here. Some tour groups cross the bridge from Zambia for better views of the falls without even realising they've entered Zimbabwe.
But if commercialisation has turned the place into something of a tout's paradise, don't let this put you off: this small, laid-back town (locals refer to it as 'the village') has somehow retained its charm and character. It has a casino or two and some glitzy hotels, but it's certainly no Las Vegas. You'll struggle to find a shop in the town centre that isn't in some way related to tourism – apart from the supermarkets, you have to venture into the industrial area to source anything as mundane as hardware. Population estimates vary widely but it is currently in the region of 50,000. The continued economic success of this town at a time of rapidly deepening economic woes in the rest of the country seems to have led to a recent and ongoing influx of people hoping to join in the 'boom'.
No introduction to the Falls would be complete without mentioning the original inhabitants – the animals. Warthogs dodge cars while rooting around in traffic islands and verges, with vervet monkeys always on the lookout for morsels left unattended on your plate or in your campsite. Baboons patrol the town, nonchalantly sharing the pavement with you, especially along the road to the Victoria Falls Hotel; but hang on to your bag of fruit and never be tempted to feed them. Elephants refuse to respect the presence of houses on their traditional trails, and view gardens, swimming pools and vegetable patches as fair game, lazily pushing down concrete walls in the process. They've been known to wander through town checking out the vehicles in the supermarket car park, while the cricket club reluctantly built a wall to stop elephants strolling across the wicket in mid-innings. So don't for one moment treat these animals as if they are Jungle Book characters. There are usually at least two human fatalities per year down to elephants raiding the high-density suburbs, while close encounters with leopard and buffalo downtown are still fairly common at night-time.