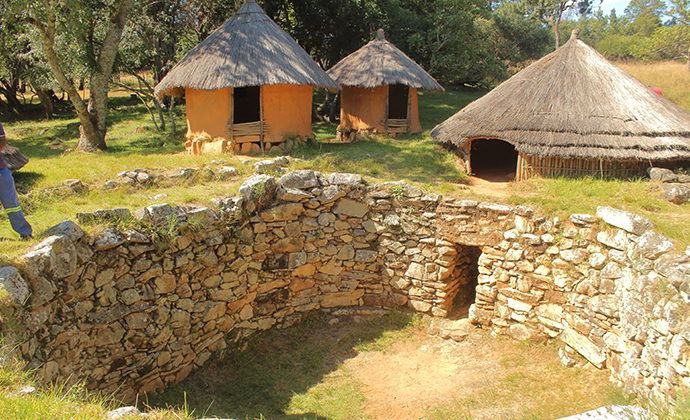 Nyanga National Park is home to many reconstructed historic pit structures and these were almost certainly corrals for small livestock © Tawanda Kapikinyu, Shutterstock
The site of Zimbabwe's highest peak offers excellent hiking and remnants of Iron Age villages.
The park and the Nyanga Highlands rise to 2,592m at Mount Nyangani, Zimbabwe's highest point. The area (314km²) is characterised by rolling hilltops studded with huge, smoothly rounded granite outcrops towering over steep gorges and wide valleys. The Pungwe River has carved a spectacular route southwards and eastwards from the foot of Mount Nyangani, while further south the Honde River has created a wide fertile valley beneath the dominating escarpment along the border with Mozambique. Zimbabwe's highest waterfall (and Africa's second-highest), the Mtarazi Falls, drops 762m into the Honde Valley.
This part of Zimbabwe has been populated since the dawn of humanity and today is rich in archaeological sites, including remnants of Iron Age villages and hilltop forts. There are three principal villages in the region: Juliasdale, west of the Nyanga National Park; Nyanga to the northwest; and Troutbeck close by in the north. Excellent tourist accommodation, from camping to luxury, is scattered throughout the area, and numerous roads and dirt tracks give access to remote, breathtaking viewpoints. The dirt roads here are in better shape than some further south, but you will still benefit from a high-clearance vehicle, and a 4×4 in the rainy season.
Hikers and birders are drawn to this area, and fishing is a big pull for many, with rainbow and brown trout in the many rivers, streams and reservoirs. There is a variety of game in the national park, including blue duiker and samango monkeys, but it is sparsely distributed and hard to spot. You are most likely to spot klipspringer, reedbuck, wildebeest, zebra, bushbuck and kudu, notwithstanding imaginative reports of sightings of lion and buffalo, which do not actually occur in the area.
It won't take long before you come across the name Cecil Rhodes (the national park is still often referred to as Rhodes Inyanga). He actually bought a large chunk of the area for himself and built a house overlooking – you guessed it – Rhodes Dam; this is now the Rhodes Nyanga Hotel.
Spectacular though this area is, it would be unrealistic not to mention the extensive commercial forestry here. Depending on growing and harvesting cycles you may find yourself driving through mile upon mile of monotonous plantations or past blackened hillsides full of smouldering tree stumps. Illegal fires in the winter season also burn off the grasslands in the park, despite the best efforts of the rangers to stop such events.