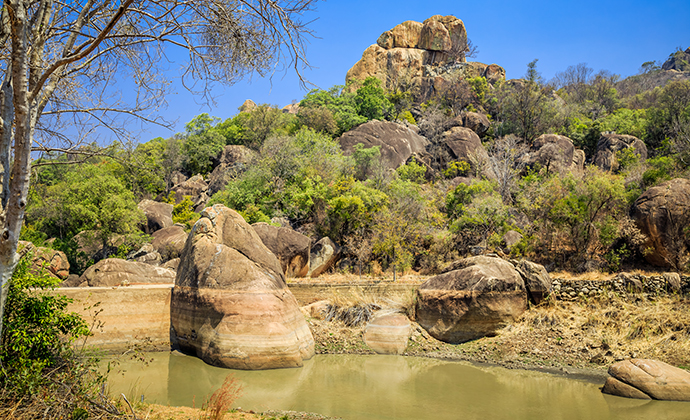 Matobo is perhaps one of southern Africa's most dramatic rock landscapes © Liz Coughlan, Shutterstock
Famous for its San rock paintings and rock 'architecture', this area of outstanding natural beauty is southern Africa's most dramatic rock landscape.
Less than an hour's drive south of Bulawayo lies one of Zimbabwe's, if not southern Africa's, most dramatic rock landscapes. To describe this area, which includes the Matobo National Park, as a place of outstanding natural beauty is something of an understatement. Copywriters struggle to convey the geological majesty of the place, with adjectives from 'rugged' and 'domineering' to 'spiritual' and 'weird'.
Granite is the building material and weather the artist. The area gets your attention with two completely different rock forms, both the result of the same geological processes. Most dramatic are the balancing rock kopjes: huge angular blocks of granite piled on top of and beside one another, forming pillars and stacks, like a giant child's building blocks. Most dramatic in scale, however, are the massive, bald dwalas or 'whalebacks', grey granite hills rising from the surrounding woodland and criss-crossed with fault lines, some so intricate they look like giant hieroglyphics. Matobo, in fact, is translated as 'bald heads', allegedly coming from a joke made by King Mzilikazi.
Hundreds of caves and rock shelters created by the same weathering processes were later inhabited and painted by descendants of the world's most ancient peoples; indeed this is one of the few areas in the world proven to have supported continuous human occupation for over 40,000 years.