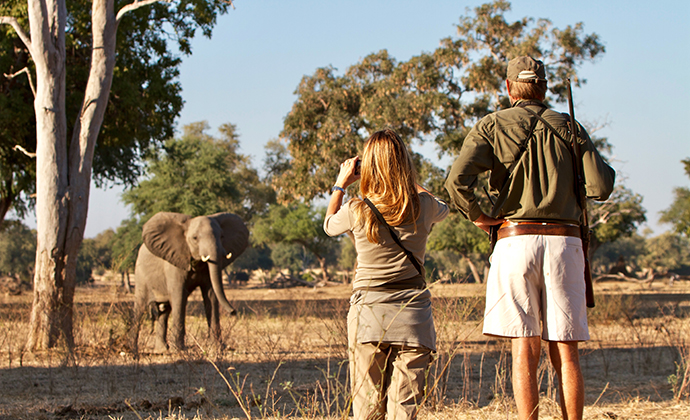 Mana Pools National Park is deservedly one of Zimbabwe's most popular wildlife destinations © Claudio Soldi, Shutterstock
This park is regarded by many regular visitors and locals as the finest wilderness area in the country.
Entry to this park – a UNESCO World Heritage Site – is strictly controlled by the Zimbabwe National Parks and Wildlife Management Authority. Prior booking is essential, through an operator or directly with ZPWMA.
The park is actually part of a much larger wildlife area adjacent to Sapi and Chewore safari areas to the east, also bordering the Zambezi. Not only is Mana Pools richly stocked with game and blessed with outstanding scenic, riverine beauty but it is also relatively little visited, at least compared with Hwange and Victoria Falls. This is one of the few national parks where visitors are allowed to walk at their own risk along the floodplain but while this is welcomed by enthusiasts with plenty of bush experience, it is most advisable for inexperienced visitors to be accompanied by an armed professional guide or a national park ranger. Probably because of its outstanding qualities as a game-viewing destination, this park is home territory to some of Africa's finest professional guides.
Limited fishing is allowed, but only from land. Motorboats are not permitted in the dry season because of noise, pollution and wave action disturbing the wilderness qualities of the park. A thorough 'Respect the Wild' code of conduct for visitors to Mana Pools and other wild areas is displayed at accommodation points throughout the park; visitors are advised to take heed of its advice to get the best out of their wild experience and to ensure they leave the area as they found it. A fine of US$1,000 may be applied if you are found in breach of the regulations. In 2012, this was the first of Zimbabwe's national parks to adopt the excellent 'carry in – carry out' rubbish policy, which has been rigidly enforced. You are asked to burn anything combustible on your campfire but for non-combustible materials you will be given a plastic bag and expected to deposit it at an urban centre away from the park. There are no disposal facilities at the exit of the park and if you leave your rubbish there you will be fined.
There are no shops, and cellphone coverage is very limited. Accommodation is restricted to a handful of safari lodges and eco-friendly tented or mobile camps as well as self-catering national park chalets. Camping on the banks of the Zambezi River is a feature of the Mana experience.
The park is open to cars during the dry season but during the rainy season roads are frequently closed. Access to the interior of the park is restricted to the main road to Nyamepi Parks HQ from December to March. The best time to come here in terms of temperature and rainfall is March to October.
Owing to the fact that this is a UNESCO World Heritage Site, an integral part of the UNESCO Middle Zambezi Biosphere Reserve and a designated Ramsar Wetland of International Importance, the area has recently been saved from a proposal to mine for heavy metals that were thought to be deposited in the park's riverbed. There remains a long-term potential threat for its future because of plans for the Mupata Gorge hydro-electric scheme that would flood the entire area for electricity generation. At present, focus is on the Batoka Gorge Dam while funding is unlikely to be forthcoming for development in this area. Check the Zambezi Society's website for updates as well as advice for visiting this area in a responsible, ecologically aware manner.