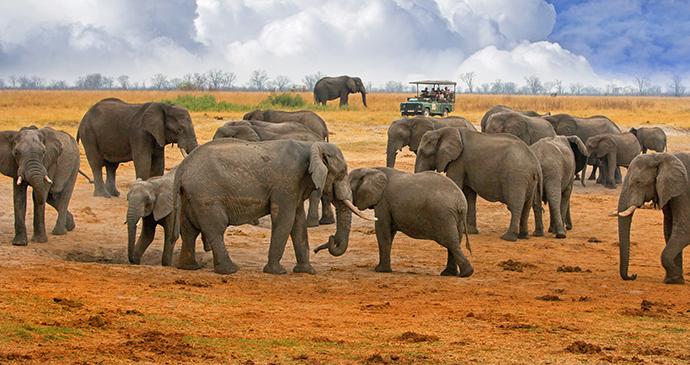 One of the finest national parks in Africa, Hwange contains a remarkable diverstiy of wildlife, including one of the largest elephant populations on earth © Paula French, Shutterstock
Spend time in the company of the 'Big Five' in this world-class safari area.
Hwange ranks among the top national parks in Africa in terms of size, and sheer numbers and variety of game, along with excellent viewing and accommodation facilities. If this trip to Zimbabwe is your first experience of African wildlife viewing, Hwange is the perfect place to start your quest for the 'Big Five', before moving on to other equally rewarding animals. With over 108 species, Hwange boasts the highest diversity of mammals of any national park in the world, including 19 large herbivores and eight large carnivores. One of the largest elephant populations on Earth – numbering anywhere between 20,000 and 75,000 in the peak dry season – ranges between Hwange and neighbouring Chobe in Botswana. Over 400 species of birds have been recorded here, including around 50 types of raptor.
Hwange today is part of the KAZA (Kavango-Zambezi Transfrontier Conservation Area) region, the largest conservation area on the planet. The park was included because of its incredible biodiversity.