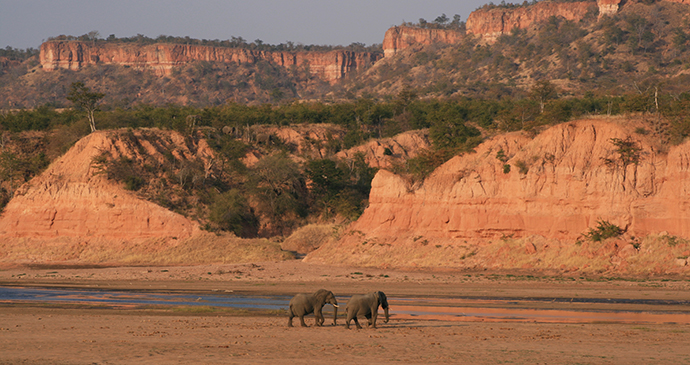 Late afternoon and sunset bring a succession of orange to deep red tints to the Chilojo Cliffs © Paul Murray
Enjoy a sundowner while admiring the flaming-orange sandstone Chilojo Cliffs.
At a fraction over 5,000km², this is Zimbabwe's second-largest national park, established in 1975. The name translates from Shona as 'place of elephants'. The river floodplains are interspersed with lagoons and riverine forest featuring notable species such as the nyala berry tree, ebony and Natal mahogany. The arid hinterland comprises mopane woodland and ironwood forest, as well as the succulent shrub, the Sabi star, which grows on rocky outcrops and has a lovely pink flower. These varied habitats are responsible for the richest biodiversity of any Zimbabwe national park. Gonarezhou has the biggest variety of birds in the country – over 400 species, with a further 92 listed as 'likely to occur' – but do note that birding on foot is not allowed without a registered guide. The most scenically dramatic areas are along the Runde River with the majestic, red sandstone Chilojo Cliffs being the most iconic feature. Here, the seasons present two very different aspects – in the dry winter months your photographs will show the cliffs towering over the parched river bed with elephant marching from one side to the other and made miniature by the sheer size of the geography. When the river's in flood though, you could be forgiven for thinking you were in a different park altogether. This is a huge river system that transforms a dry, apparently lifeless landscape into a lush and verdant wildlife paradise.
The game has had a difficult time of it in the past. Elephants, along with much of the other 'game', suffered from widespread hunting and poaching in the early 20th century, and later from Mozambican troops who during their civil war treated Gonarezhou as a food source and a sporting paradise. The sport consisted of terrorising all and any game by shooting from both ground vehicles and helicopters. To make matters worse, widespread poaching continued late into the last century by neighbouring communities who continued to resent the incursion of the national park into their traditional lands. This history has given Gonarezhou a reputation of being short on wildlife and many Zimbabweans (few of whom have visited the park recently) still think this is the case. Many also believe that GNP's elephants are not only scarce but notoriously ill-tempered and dangerous as a direct result of their continued persecution. Inevitably in a park of this size, poaching continues to exact a toll, but there is now a great deal of good news too.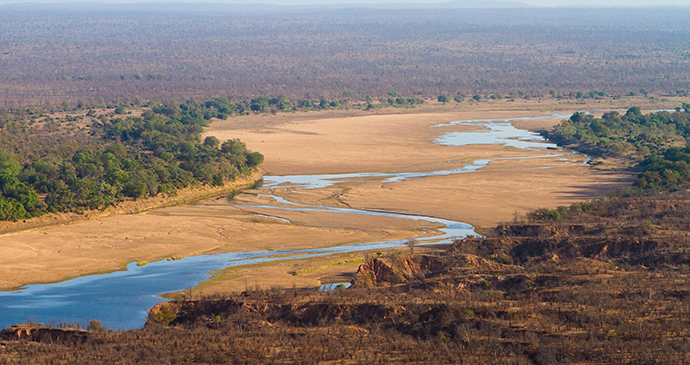 The stunning view of the Runde River from the Chilojo Cliffs viewpoint © Villiers Steyn, Shutterstock
In operation since 2017, the Gonarezhou Conservation Trust is now directly responsible for management of the park (and will be for the next 20 years). The improvements so far have been incredible and, presuming they continue as they seem certain to do, showcase a management model that benefits the entire surrounding community, and which could revive and reinvent national parks across the continent.
Gonarezhou is also part of the Great Limpopo Transfrontier Conservation Area, encompassing Kruger National Park in South Africa and Limpopo National Park in Mozambique, offering the prospect of opening up the border fences and allowing game to migrate over much larger areas. This project has not yet reached completion, with a number of funding issues to be resolved, as well as the not inconsiderable problem of the perfectly reasonable unwillingness of GNP's elephants to set foot in Mozambique territory. They do indeed have good memories.
Keen birders will want to spend several days in this park, which boasts an impressive list of specials, including African finfoot, bat hawk, racket-tailed roller, thick-billed cuckoo and Pel's fishing owl, to name just a few. As this park has predators, birders on foot must employ a National Parks or registered guide.