Pemba Island lies about 80km to the northeast of Zanzibar Island, and about the same distance from the Tanzanian mainland, directly east of the port of Tanga. Smaller than Zanzibar, at just 67km long, it covers an area of 985km² and has a more undulating landscape, even though its highest point is only about 95m above sea level. But one of the first things that most strikes the visitor is how green it is. More densely vegetated than Zanzibar (with both natural forest and plantation), Pemba has always been seen as a more fertile place. The early Arab sailors called it El Huthera, meaning 'The Green'. Today, as always, far more cloves are grown here than on Zanzibar.
With 406,848 inhabitants recorded in the 2012 census, Pemba is – like Zanzibar – one of the most densely populated areas of Tanzania, although this is no urban jungle. Most of the population live in traditional square houses, with a wooden frame, mud walls and thatched roofs (occasionally upgraded to corrugated iron). The largest town is Chake Chake, the island's capital and administrative centre, about halfway down the western side of the island. Other main towns are Wete, in the north, and Mkoani, the main port, in the south.
What to see and do
For today's visitor, Pemba's greatest attractions include long, empty beaches, some excellent diving and snorkelling, and the unspoilt Ngezi-Vumawimbina Forest Reserve. There are several small historical sites which, although not 'must sees', ertainly repay a visit if you use just a little imagination. Perhaps more important, though, attracting a few thousand visitors annually, and with relatively few tourist facilities, Pemba is still a place where travel for its own sake (by car, bus, bike or on foot) remains a prime reason for visiting.
Diving
Recreational diving off Pemba is, for the most part, confined to the Pemba Channel on the more sheltered west of the island. Misali Island in particular provides a wonderful array of corals and fish life. Unlike the reefs around Zanzibar Island, many of the reefs off Pemba fall away into steep walls, offering opportunities for some exciting drift dives and the chance to see creatures such as the spotted eagle ray, with its 3m wingspan.
Despite Pemba's undoubted reputation for the big pelagics, such as barracuda, trevally, giant groupers and the endangered Napoleon wrasse, sightings of shark are extremely rare on the west of the island, and even to the south. If it's sharks that you're after, you need to deep dive in the east, where the steep walls and fast currents attract hammerheads.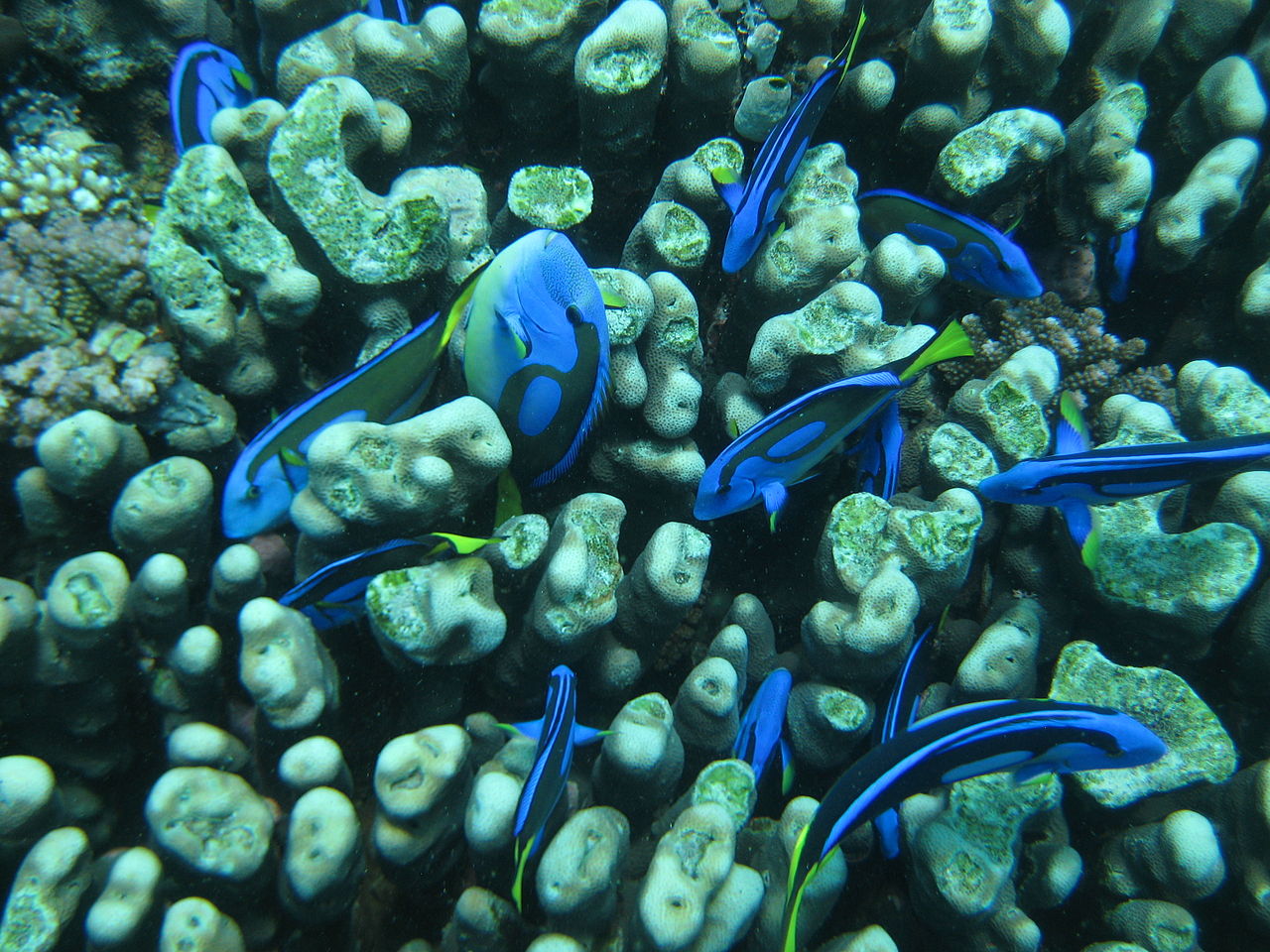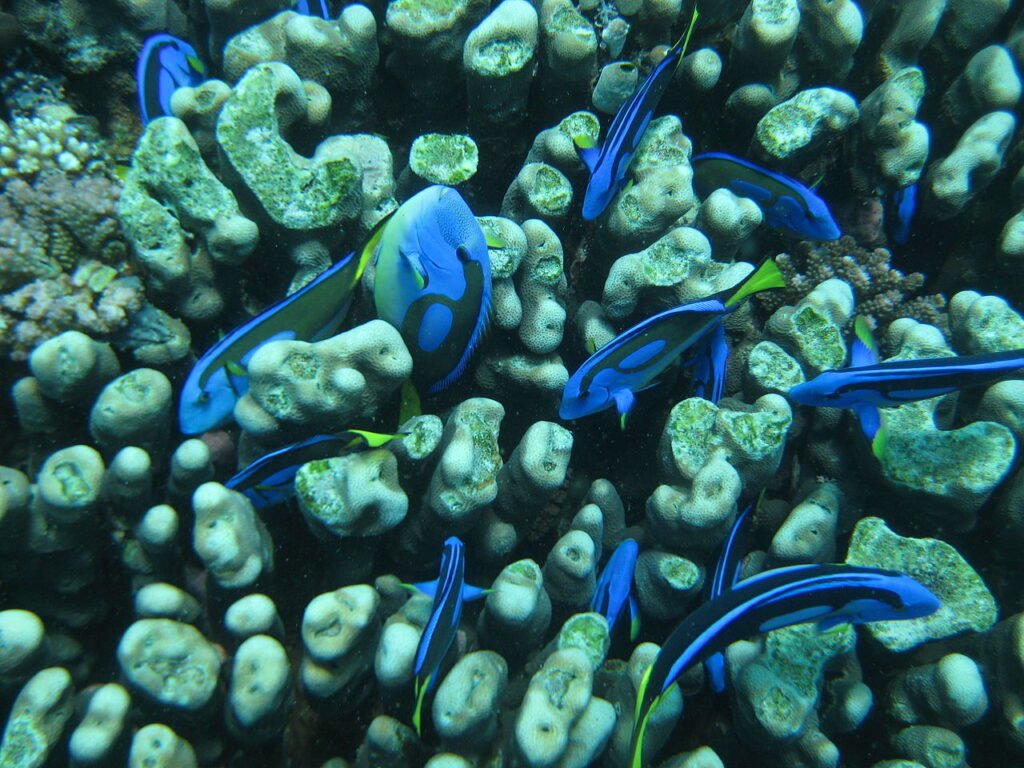 Most operators use either speedboats or motorised dhows to get to the dive sites. While the former are undoubtedly faster, there's a lot to be said for the leisurely pace of a dhow, giving the opportunity to take in the beauty of the islands or to watch large teams of fishermen working with their nets from narrow wooden boats. On the way to the dive sites, particularly in the morning and further north, you may be joined by schools of common or spinner dolphins, just tagging along for the ride, and occasionally humpback whale sightings have been reported. See 360 Dive Pemba, Dive 710 or Swahili Divers for more information.
Snorkelling
While there is no shortage of places to swim and snorkel off Pemba, most are viable only at high water. One of the best places for snorkelling lies in front of the visitor centre on Misali Island, where – in just a few feet of water, and regardless of the tide – countless fish and other underwater life can be seen in almost perfect visibility.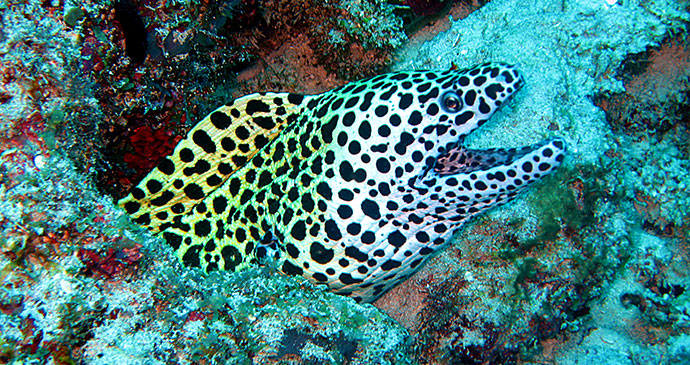 Black-spotted moray eel © Andaman, Shutterstock
As you drift through the water, keep an eye out for unicornfish, sea goldies, cleaner wrasse, deep red and blue parrotfish, and the startling Moorish idol. Giant clams grip the reef, and sea cucumbers edge along the sandy bottom; you may even spot a grouper. Other excellent sites include the Aquarium in the Njao Gap and the 1km-long reef protected by the Kwanini Foundation in front of the Manta Resort. Other possibilities include areas around the sandbanks that dry out at low tide along the west coast. Snorkelling trips can be organised through all the hotels and lodges; expect to pay US$20–40, depending on the distance to the site.
Kayaking
All the larger tourist lodges and hotels have kayaks, with short guided trips offered by Fundu Lagoon for their guests. The Manta Resort offers kayak safaris (US$30 pp), while at Swahili Divers, a half-day guided mangrove tour costs US$35.
Getting there and away
By air
Daily services run between Dar es Salaam and Pemba, although all flights go via Zanzibar, and some may involve a change of plane. The duration of the flight is just over an hour. The modern terminal, located 7km southeast of Chake Chake, has few facilities – just a small shop selling drinks and snacks and a couple of toilets. Auric Air and ZanAir both operate scheduled flights to Pemba from Dar es Salaam and/or Zanzibar and/or Tanga, with Coastal Aviation being particularly useful when it comes to connections to the Serengeti, Selous, and other mainland safari destinations. Check the individual carrier's websites for up-to-date schedules.
By sea
Nearly all passenger ships, and some cargo ships, coming into Pemba arrive at the southern town of Mkoani, while it's mostly cargo ships and dhows that go to/from Wete (in the north). Very few ships or dhows, other than local fishing boats, go to/from Chake Chake. (In fact the old harbour of Chake Chake is silted up and only canoes can get here; the town's port is now at Wesha, about 10km west along the coast).
It is possible to buy tickets online directly from Azam or for all ferries from Stone Town tour operators; to buy tickets on Pemba, contact the relevant local agent in Chake Chake, Mkoani or Wete. Do not buy tickets from touts, and be aware that these ferry schedules are notoriously subject to change, so do double-check with Azam close to your time of travel. If your time is tight, seriously consider flying.