Unlike the reefs around Zanzibar Island, many of the reefs off Pemba fall away into steep walls, offering opportunities for some exciting drift dives and the chance to see creatures such as the spotted eagle ray, with its 3m wingspan.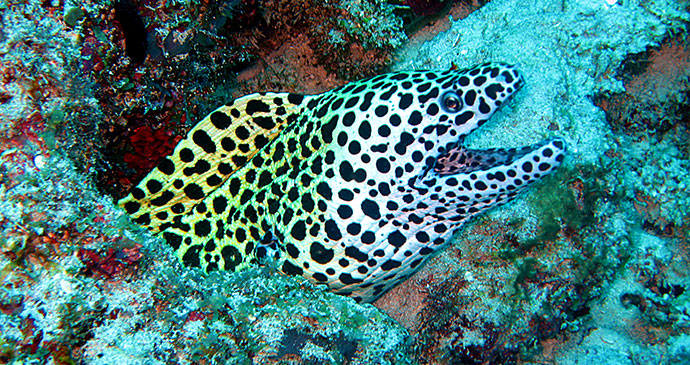 Black-spotted moray eel © Andaman, Shutterstock
Recreational diving off Pemba is, for the most part, confined to the Pemba Channel on the more sheltered west of the island. Misali Island in particular provides a wonderful array of corals and fish life. Despite Pemba's undoubted reputation for the big pelagics, such as barracuda, trevally, giant groupers and the endangered Napoleon wrasse, sightings of shark are extremely rare on the west of the island, and even to the south. If it's sharks that you're after, you need to deep dive in the east, where the steep walls and fast currents attract hammerheads.
Most operators use either speedboats or motorised dhows to get to the dive sites. While the former are undoubtedly faster, there's a lot to be said for the leisurely pace of a dhow, giving the opportunity to take in the beauty of the islands or to watch large teams of fishermen working with their nets from narrow wooden boats. On the way to the dive sites, particularly in the morning and further north, you may be joined by schools of common or spinner dolphins, just tagging along for the ride, and occasionally humpback whale sightings have been reported.
Diving on Pemba, as on Zanzibar Island, is good all year round, with visibility ranging from 10m to 30m or even more. Between December and March, the water is warm – around 30°C, but even quite early in the season the water temperature is a reasonable 25°C or so, and most operators have good wetsuits if you didn't bring anything suitable. Visibility, current and thus the choice of dive sites are strongly affected by the state of the tide: not just the level, but also whether it is spring or neap. Be guided by your dive instructor on this – it's important: there are a number of dives that should not be attempted by beginners, especially in the southeast of the island. On almost all boats, entry is a backward roll into the water.