Once a small fishing village, straggled along the coast, Paje is centred on the junction of the tar road from Zanzibar Town with the main east coast road between Michamvi and Makunduchi. This prime location has always made it the easiest place on the east coast to reach by public transport and certainly contributed to its early success as the backpackers' choice location.
After an initial peak, Paje's visitors declined as Nungwi claimed the crown for budget beach action, but the north is pulling upmarket again these days, and the backpacker pendulum is currently swinging back to the east coast. Recent years have also seen a veritable boom in Zanzibar kitesurfing, and Paje is now firmly on the map as a destination for sun-blond kiters seeking a cheap getaway in warm, tropical waters with reliable conditions. More lodges have sprung up, old ones have expanded, cafés have opened, a basic curio street now stretches back from the beach, and everywhere along this stretch, kites fill the sky. During peak season, the beach is pretty hectic with people and fluttering silk, and swimming is an absolute non-starter.
The kitesurfing community – both professional centres and visitors – are generally fairly laidback and responsible, but the sheer numbers of visitors here have attracted some associated troubles: a rise in beach boys permanently lingering on the sand, some beach robbery and reports of increasing problems with drugs. By and large, the area surrounding the village remains a quiet spot for an idyllic beach break, but it's worth taking sensible precautions when wandering around. Genuine interaction with the local community is virtually non-existent here, with only the beach traders mixing with the tourists.
What to see and do
The primary activities in Paje are sunbathing on the beautiful beach and swimming in the sea. If staring out at the waves breaking along the fringe reef pricks your curiosity, there are two dive schools and a number of European-run kitesurfing operations; be aware, though, that the latter is seasonal, with the best times being December to February, or even better, from June to August. For those tired of the salt and sand, a small heart-shaped pool at Dhow Inn is open to non-residents for a daily fee of US$5.
An informative diversion is the Mwani Zanzibar Seaweed Company, which operates a suburban visitors' centre in the back roads, about 1km north of the village centre. Given the visibility of seaweed farming, it's well worth checking out these lovely new 'headquarters' to better understand its very real importance to the community. An informative 1-hour guided tour, including a glass of seaweed juice and a visit to one of the seaweed production areas on the nearby beach, costs US$15 per person. The on-site shop sells a range of organic seaweed products, including soaps, scrubs, and oils, that make perfect, lightweight souvenirs.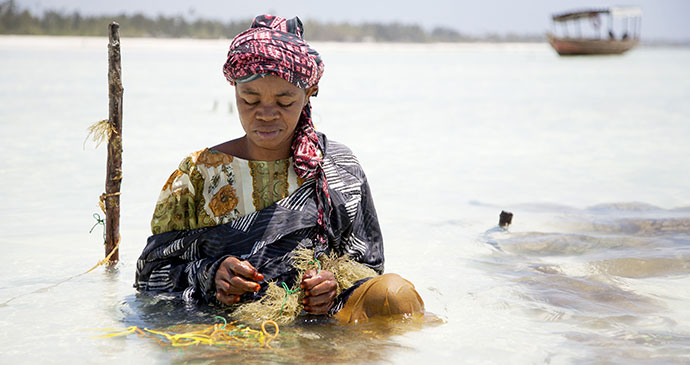 A local woman harvests seaweed on Paje's popular seaweed farm © Ann Taylor, Shutterstock
There is also an old mausoleum: a low rectangular edifice with a castellated wall, inset with antique plates and dishes. This design is thought to have originated in Persia, and may indicate that this part of the island was settled by Shirazi immigrants prior to the western side of the island, near present-day Zanzibar Town. Ask one of the local villagers to escort you for a small fee.
In the last decade, kitesurfing has literally taken off on Zanzibar, particularly in the area around Paje. A colourful and fascinating spectator sport, its rise comes as no surprise to the many operators here. Warm, calm, tropical waters, a shallow lagoon and constant steady wind (13–25 knots is ideal) for eight months of the year have all contributed to its success. There is good, flat, waist-deep water for freestylers at low tide, and choppy conditions (1–3m waves) beyond the reef at high tide that thrill the wave riders.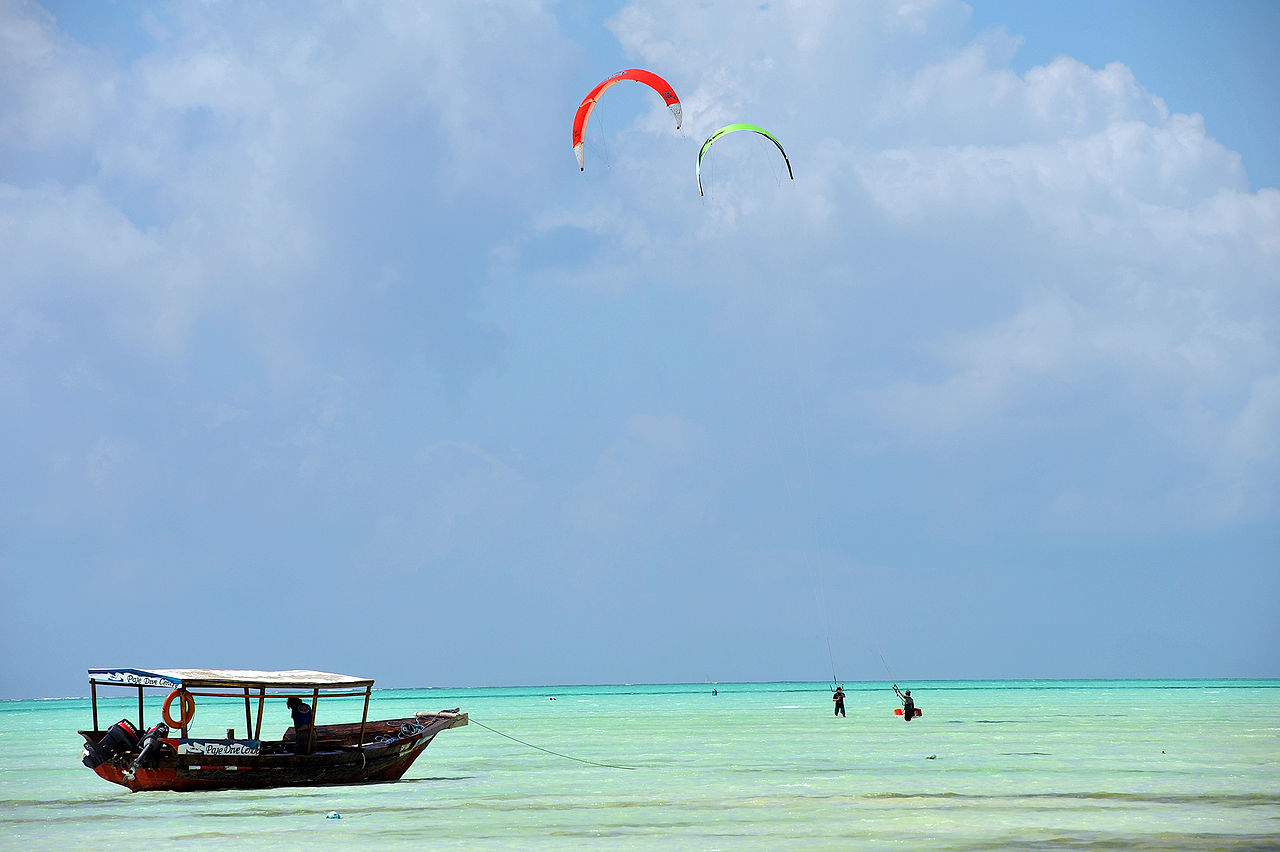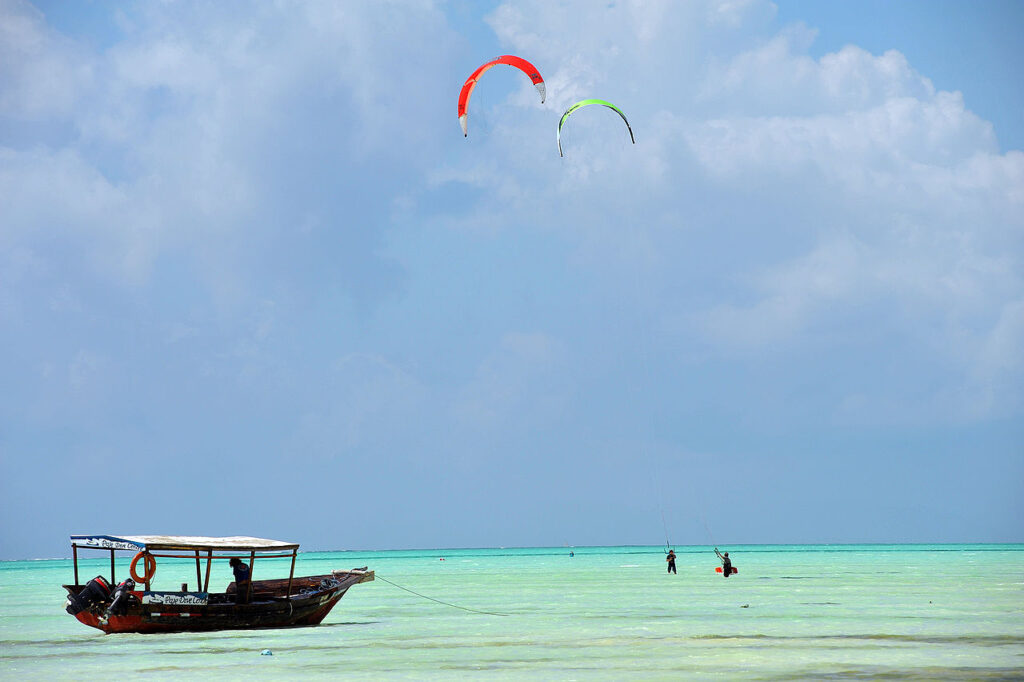 Beginners can take courses with licensed instructors, advanced riders can bring and store their own kit or hire on the beach, and the kitesurfing community is generally professionally run on the island. Perhaps the only drawback of the popularity is that swimmers are perhaps better off away from this kiting heartland, where boards zip through the surf from dawn to dusk. Should this be of interest to you, equipment, courses and more information can be found at Airborne Kite Centre, Harakakite or Kite Centre Zanzibar.
Getting there and away
Paje stands 50km east of Zanzibar Town along a surfaced road through Tunguu, Jozani and Kitogani, a drive that shouldn't take much more than an hour in a private vehicle. Upon arriving at Paje, the road arrives at a roundabout, from where a left turn takes you on to a surfaced road leading north to Bwejuu and Michamvi, while a right turn takes you south along the surfaced road to Jambiani and Makunduchi, in the far southeast corner of the island.
Any hotel in Paje can pre-arrange a road transfer from Stone Town or the airport; expect to pay around US$40–50 one-way. Alternatively, Paje can be reached by public transport (dalla dalla No 324 or bus Route 9), tourist minibus or self-drive rental car, motorbike or bicycle.