Ageing hippies, gap-year students and bright young things escaping European city jobs are all drawn to the white sand, stage-set palm trees, turquoise sea and sparkling sunshine of northern Zanzibar.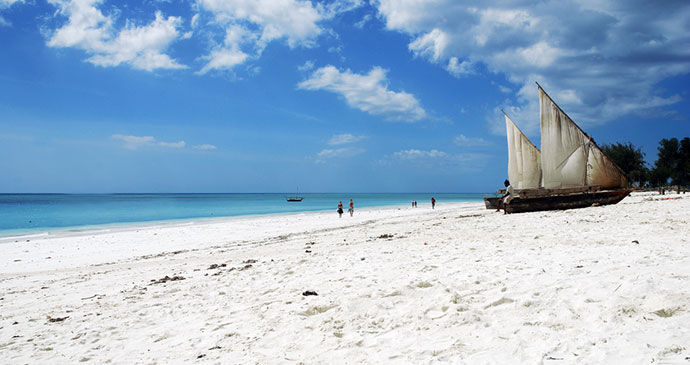 The beach at Nungwi © Moongateclimber, Wikimedia Commons
Less than 2 hours' drive from Stone Town on the fast tar road past increasingly rural villages, this area vies for the island's budget tourism industry with Paje, but is now also home to an increasing number of large, luxurious resorts. Focused around Nungwi village on the northernmost tip, and spreading near-continuously along the golden sands of Kendwa, on the northwest coast, this bustling centre initially appears to offer every component of the perfect holiday: a wide range of accommodation, watersports galore, fresh seafood washed down with daily cocktails, and a lovely ocean vista.
Sadly, however, there are some serious social and environmental problems bubbling in this area and many visitors, as well as a good number of the foreign and local investors, appear to be blind to the spiralling situation. The alarming growth in the number and scale of developments is quite staggering. Once-small backpackers' boltholes have grown from a handful of rooms to resort hotels, mid-range places have added literally dozens of rooms to their original quota, whilst large-scale luxury or allinclusive resorts now sit cheek-by-jowl on vast tracts of land around the north coast.
That said, the Nungwi beach scene has matured in recent years and become a little more comfortable in its own skin. The beachfront hassle has declined in favour of clusters of local curio stalls; basic shops and small businesses have been established offering everything from massage to snorkel hire; the wild nights have tempered, making way for tables set for feet-in-the-sand beach dinners, and a couple of cool cocktail spots have taken the place of pop-up makuti bars.
Most visitors come to this area to relax on the beach, swim in the sea, and perhaps to party at night. For local attractions, the small turtle sanctuary on the beach, terrific local coral reefs and growing array of watersports are still a draw. If you want a more cultural experience, check out the village tour, head down the coast to the 16th-century Swahili ruins at Fukuchani and Mvuleni, the bustling and ramshackle market at Mkokotoni, or venture across the water to Tumbatu Island.