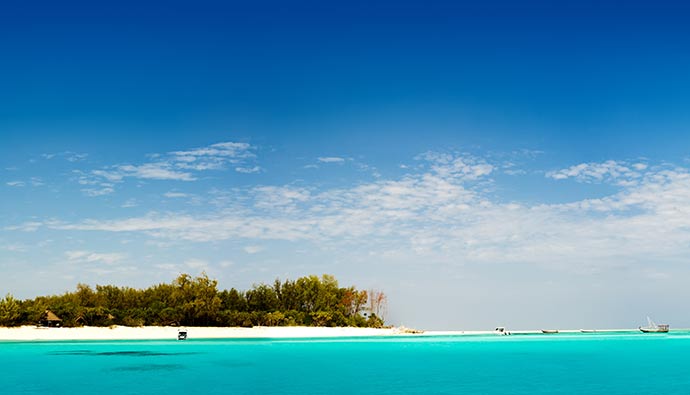 View of Mnemba Island coral atoll © Warren Goldswain, Shutterstock
Lying approximately 2.5km off the northeast coast of Zanzibar, Mnemba Island is a picture-perfect coral atoll.
Previously uninhabited, Mnemba Island is now privately leased by &Beyond and has become one of Africa's ultimate beach retreats. At its centre is a tropical forest, home to nothing more dangerous than cute suni antelope, a population of cooing red-eyed doves, butterflies, an ancient well and some Ader's duiker (Africa's most endangered forest duiker). The island's circular perimeter is 1.5km of soft, brilliant white coral sand: perfect for romantic evening strolls, migrating wading birds, scuttling ghost crabs and nesting turtles. In the turquoise sea around, some of east Africa's best coral reefs hide in a relatively unspoilt aquatic wonderland. There are virtually no insects on the island, making it a very low-risk malarial area.
Officially titled Mnemba Island Marine Conservation Area (MIMCA), the island is part of a coral formation supporting a staggering variety of marine life, which was once threatened by overfishing and a general disregard for the fragility of the environment. Sustained lobbying by &Beyond and the government resulted, however, in the area being declared a Marine Conservation Area in November 2002 and its future has now been secured.
A US$3 levy is charged on all watersports, notably snorkelling and diving, within the protected zone. This revenue is paid into a community conservation fund, the primary purpose of which is to show local fishermen and their communities the very real economic value in protecting rather than exploiting these exceptional reefs. In addition to the money generated from MIMCA park levies, the lodge and Africa Foundation (&Beyond's social development partner) have invested US$180,000 in community projects on Zanzibar close to Mnemba: building eight classrooms, a windmill and ablution blocks, refurbishing the doctor's house, supporting the orphanage and assisting villagers with access to clean water.