At the far end of the island's southwestern peninsula, on an increasingly rutted coral road 15km from Zanzibar Town, is the peaceful village of Fumba. It's a quiet, scenic place and very few tourists ever come here, which gives it a good deal of its charm. There is only one upmarket lodge offering accommodation, but day trips to the marine conservation area of Menai Bay are run by two reputable operators, so even if you can't stay it's still possible to get a taste of this area.
From the beach south of the village, local fishermen take their ngalawa outriggers and dhows to the islands and fishing grounds beyond, and here too is the departure point for one of the boat trips. It's truly stunning in the surrounding waters but if you also want to get a deeper insight into the community, ask around for a local villager called Issa Kibwana, who conducts small tours of the nearby fruit and spice plantations, or arrange a meeting with him through Sama Tours.
What to see and do
The Menai Bay Conservation Area has a number of picturesque uninhabited islands and sandbanks to explore as well as some fascinating marine life. It's well worth taking one of the full-day sailing and snorkelling excursions here, either through Fumba Beach Lodge (if you're a guest), with Safari Blue (departing from the Fumba Peninsula), or Eco+Culture (departing from Unguja Ukuu).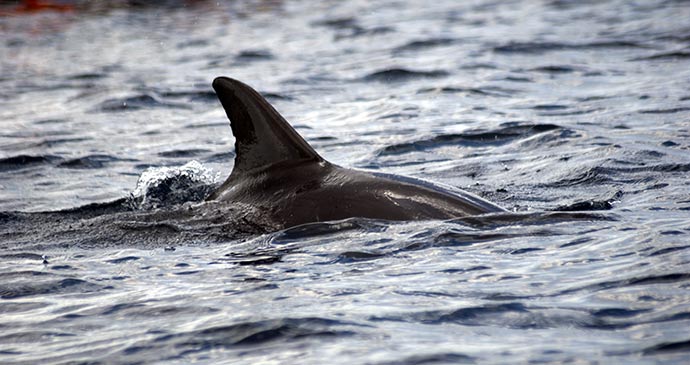 A bottlenose dolphin in Menai Bay © Attila JANDI, Shutterstock
Eco+Culture is a socially & environmentally aware tour operator that specialises in the Unguja Ukuu Boat Trip. On a traditional dhow, small groups are taken past rich mangrove forests to the pristine beaches of Miwi, Nianembe or Kwale islands & accessible sandbanks. Snorkelling kit is provided & the shallow reefs around the bay & islands provide excellent opportunities to spot brightly coloured fish & corals. After a good amount of time in the water, a delicious BBQ lunch is prepared on the beach, which invariably features a selection of freshly caught fish, Swahili side dishes & tropical fruits.
The Safari Blue tour pauses at a few of the bay's islands & sandbanks for exploration, a tasty lunch & relaxation, in between guided snorkelling forays & hopeful spotting for humpback & bottlenose dolphins. The 1st stop of the day is usually Kwale sandbank for gentle snorkelling. If conditions allow, a 2nd snorkelling session takes place at West Kwale. Sailing on further, BBQ seafood lunches await on Kwale Island, where tamarind trees offer shade (vegetarian/non-fish options must be ordered in advance).
Some shade is available on these boats and beaches, but remember to apply sunscreen and preferably wear a T-shirt for protection when snorkelling. Towels and waterproof shoes are also recommended as you'll most likely have to wade out to the boat across coral rock.
Getting there and away
To get here, take the road from Zanzibar Town towards the airport, then fork left (east) down a main road just after a petrol station. This will lead you northeast, before turning east and heading south, along the airport runway's eastern boundary fence. Leaving the airport behind you, you'll continue southeast along a bumpy, but picturesque, tree-lined road.
After around 5km there is a right turn from the main road, signposted to the Menai Bay Conservation Area. You can continue straight on or turn right to get to Fumba, as these roads join up at the rocky, southern end of the peninsula. Alternatively, if you don't have your own transport, take one of the four daily local buses (Route 7) from Zanzibar Town.