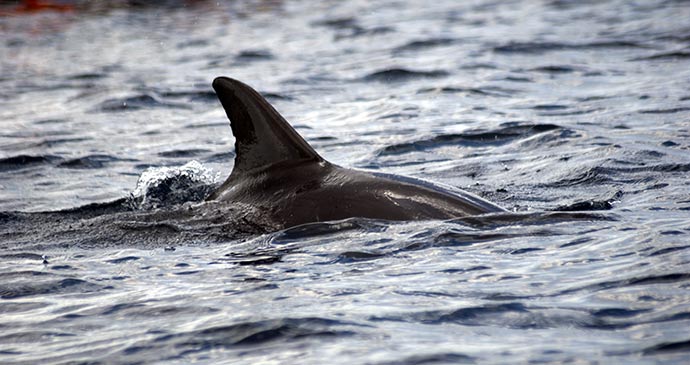 A bottlenose dolphin in Menai Bay © Attila JANDI, Shutterstock

The Menai Bay Conservation Area has a number of picturesque, uninhabited islands and sandbanks to explore as well as some fascinating marine life.
At the far end of the island's southwestern peninsula, on an increasingly rutted coral road 15km from Zanzibar Town, is the peaceful village of Fumba. It's a quiet, scenic place and very few tourists ever come here, which gives it a good deal of its charm. Day trips to the marine conservation area of Menai Bay are run by two reputable operators (Safari Blue and Eco+Culture), so even if you can't stay there it's still possible to get a taste of this area.
From the beach south of the village, local fishermen take their ngalawa outriggers and dhows to the islands and fishing grounds beyond, and here too is the departure point for one of the boat trips. It's truly stunning in the surrounding waters but if you also want to get a deeper insight into the community, ask around for a local villager called Issa Kibwana, who conducts small tours of the nearby fruit and spice plantations, or arrange a meeting with him through Sama Tours.
It's well worth taking one of the full-day sailing and snorkelling excursions here, either through Fumba Beach Lodge, if you're a guest, or with Safari Blue departing from the Fumba Peninsula or Eco+Culture departing from Unguja Ukuu.