For most overseas visitors to Zanzibar, the island's main draw is its fabulous beaches, supplemented by the diving and snorkelling opportunities that abound on the offshore reefs, and the compelling unique atmosphere of Stone Town. The interior, by contrast, tends to be overlooked, so much so that many visitors see nothing of it other than a few glimpses through a car window as they transfer from the airport to their chosen beach resort.
For natural history enthusiasts, the main attraction of the underrated interior is Jozani Forest, which now forms part of Jozani-Chwaka Bay National Park and harbours the island's largest concentration of endemic Kirk's red colobus monkey, along with rich birdlife and various other alluring forest creatures.
Zanzibar's only national park, Jozani-Chwaka Bay protects a variety of wooded habitats, the most important of these being the largest-surviving stand of the mature indigenous forest that once naturally covered much of the island, and the extensive mangroves that line the southern end of Chwaka Bay. The park extends for more than 100km², across the narrow low-lying isthmus that links the island's northwestern and southeastern components. The area is prone to flooding in the rainy season, giving rise to its unique 'swamp-forest' environment, and the large moisture-loving trees, stands of palm and fern, and high water table and humid air give the forest a cool, 'tropical' feel.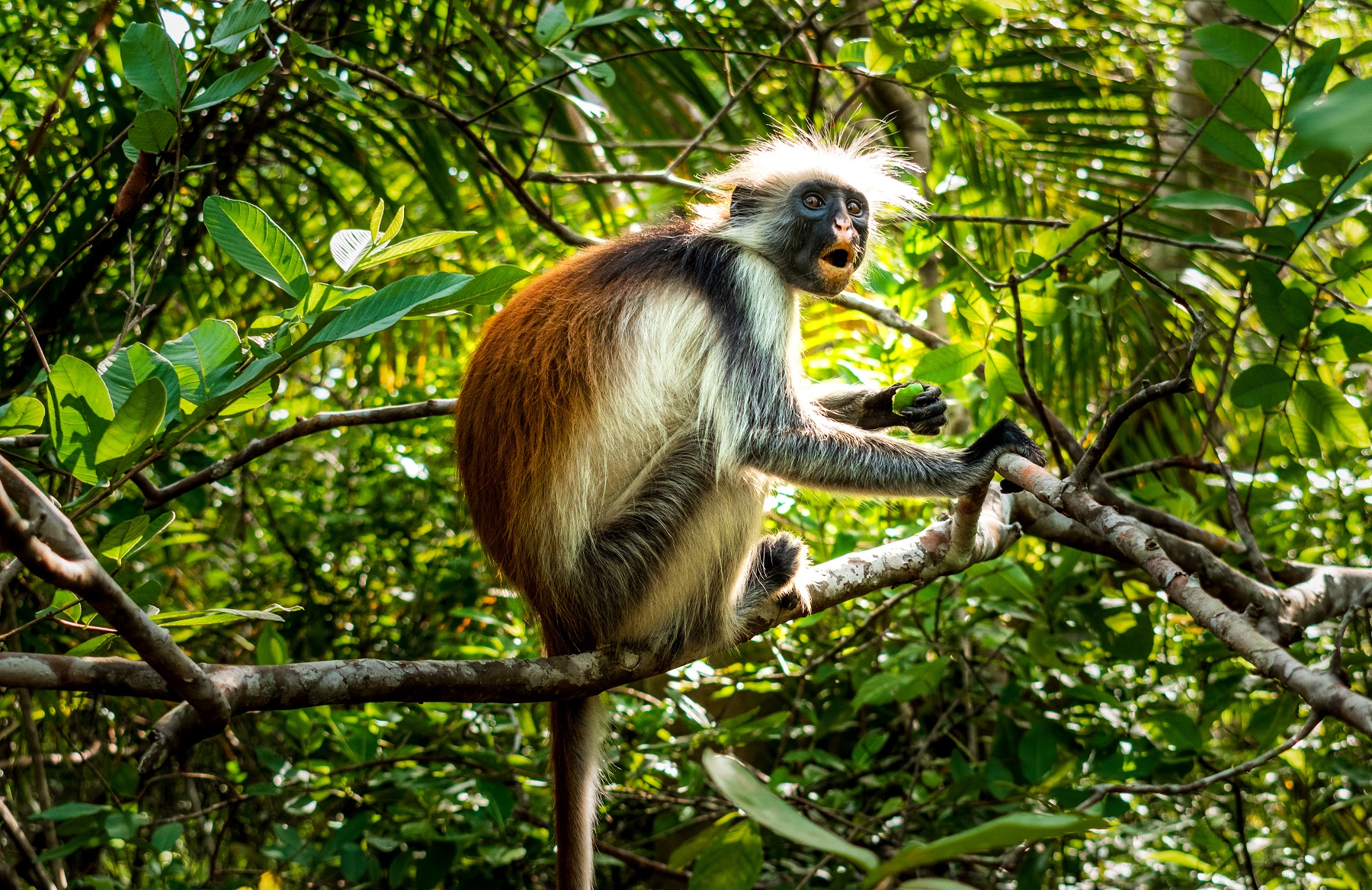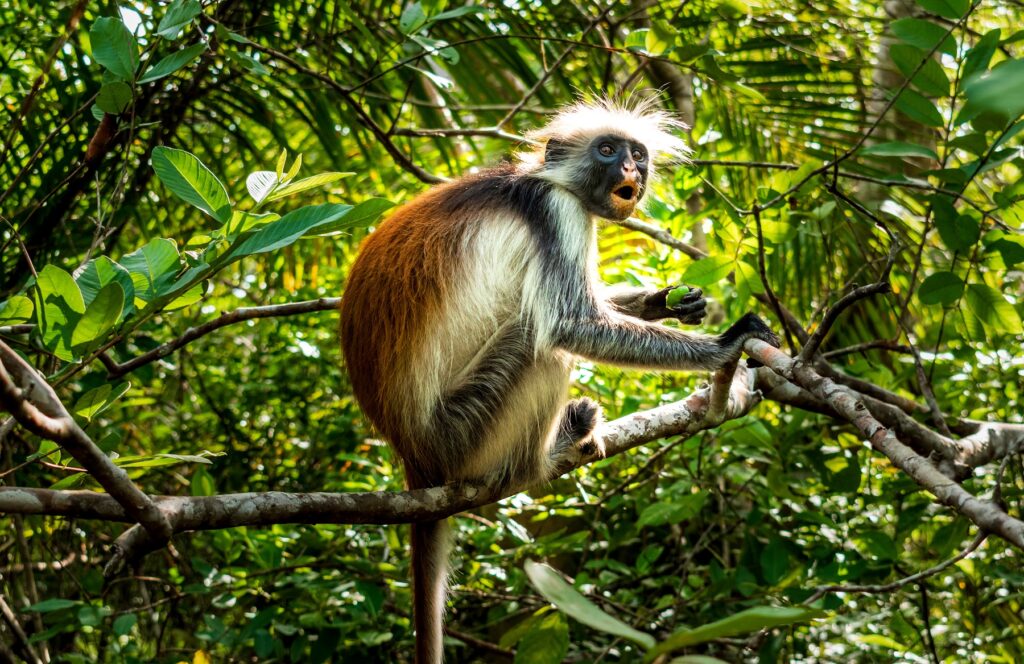 Historically, local people have cut trees and harvested other forest products for many centuries, but commercial use started in the 1930s when the forest was bought by an Arab landowner and a sawmill was built here. In the late 1940s, the forest came under the control of the colonial government and some replanting took place. Jozani was set aside as a forest reserve in 1952 and, as similar habitats elsewhere were cleared to make way for agriculture, much of the island's wildlife congregated here. The forest was declared a nature reserve in the 1960s, but despite this the trees and animals were inadequately protected. Local people cut wood for building and fuel, and some animals were hunted for food or because they could damage crops in nearby fields.
Nevertheless, Jozani Forest retains much of its original natural character, and exploitation of its natural resources has more or less ceased since 2004, when it was merged with Chwaka Bay to the north and proclaimed as Zanzibar's first (and so far only) national park. Developed from a partnership between the Zanzibar government's Commission for Natural Resources and the charity CARE International, with funding from various sources including the government of Austria, the Ford Foundation and the Global Environment Facility, Jozani-Chwaka Bay National Park now has clear targets to protect natural resources and improve conditions for local people and wildlife in the area. It is also a popular destination for day trippers from Stone Town and the east-coast resorts, and revenue raised by tourism plays an important role in its conservation.
Jozani has a fairly good bird population, with over 40 species recorded, although many of the forest birds are shy and therefore hard to spot. Species occurring here include Kenya crested guineafowl (Guttera pucherani), emerald- spotted wood dove (Turtur chalcospilos), little greenbul (Andropadus chalcospilos), sombre greenbul (Andropadus importunus), cardinal woodpecker (Dendropicos fuscescens), red-capped robin-chat (Cossypha natalensis), dark-backed weaver (Ploceus bicolour), golden weaver (Ploceus xanthops), olive sunbird (Nectarinia olivacea) and crowned hornbill (Lophoceros alboterminatus).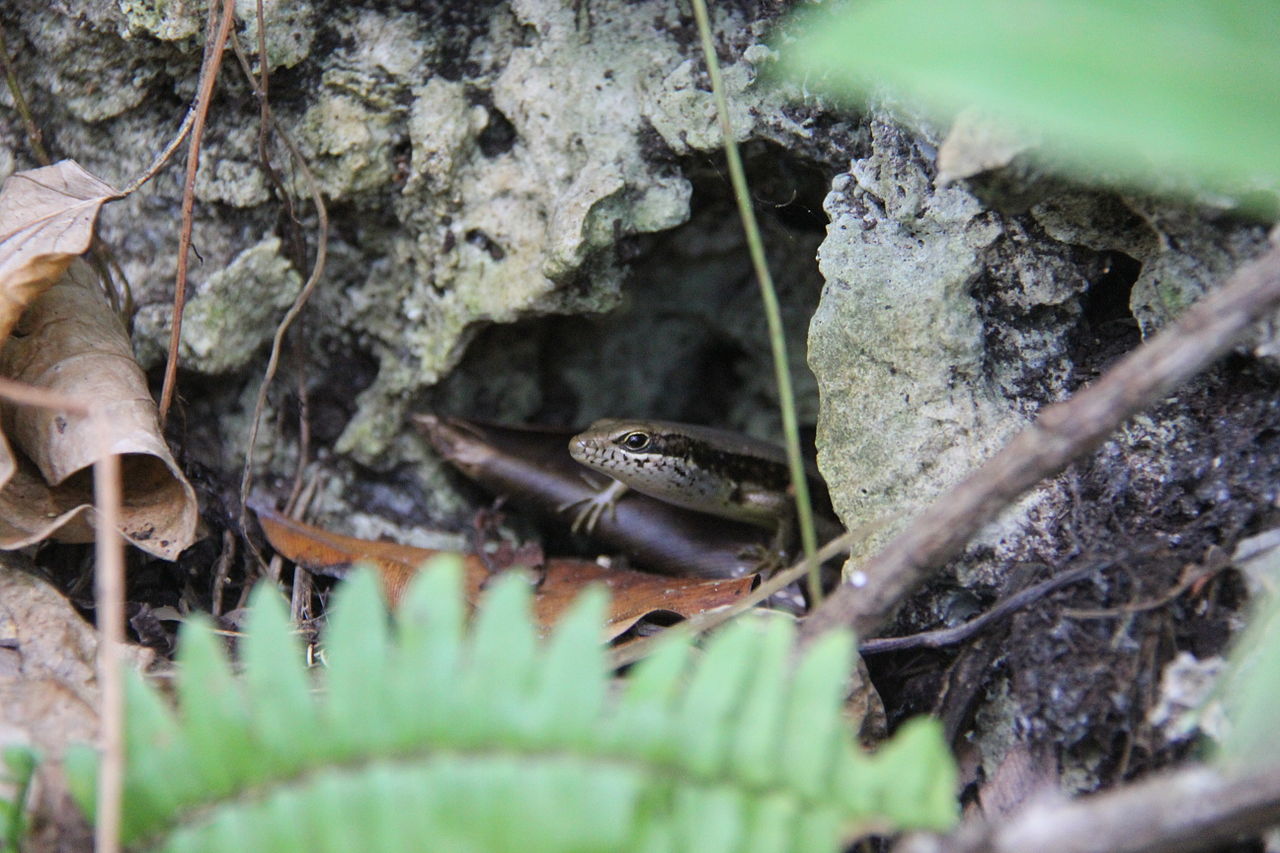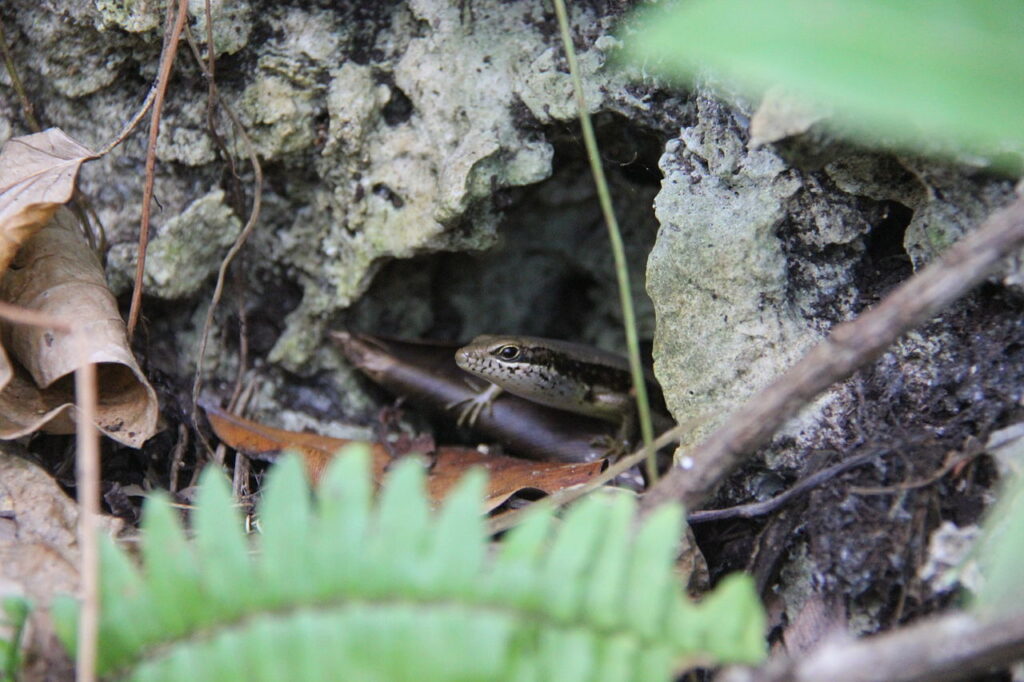 Other residents of Jozani include a population of Zanzibar Sykes' monkey (Cercopithecus albogularis albogularis), a subspecies that is endemic to the archipelago and which you are quite likely to see on a guided walk. The forest is also home to Ader's duiker (Cephalophus adersi), a species of small antelope found only on Zanzibar and some parts of the Kenyan coast, and the even tinier suni antelope (Neotragus moschatus moschatus). Both are extremely shy and unlikely to be seen. Ader's duiker is virtually extinct in Kenya now and, listed as Vulnerable by the IUCN, its best chance of survival is on Zanzibar Island. Its population is between
Getting there and away
The entrance to Jozani Forest is on the main road between Zanzibar Town and the southern part of the east coast, north of the village of Pete. The reserve is clearly signposted, and the entrance fee includes the services of a mandatory guide and the mangrove boardwalk.
Many tour companies include Jozani on their east-coast tours or dolphin tours, but you can easily get here by frequent public bus (Routes 9 and 10), dalla dalla (Nos 309, 310, 324 or 326), hired bike or car. Alternatively, take a tourist minibus heading for the east coast, and alight here. This road is well used by tourist minibuses and other traffic throughout the day, so after your visit to the forest you could flag down a vehicle and continue to the coast or return to Zanzibar Town, though it's best to be waiting roadside by 17.00, when the frequency of buses decreases.
Although Chwaka Bay supports the largest swathe of mangrove forest on Zanzibar, it is relatively poorly developed for tourism. It is, however, possible to take a boat across the bay, between the village of Chwaka and the southeast coast, an option that may attract the adventurous.