Author's take
Here you still find expert guides to trust with your life.
Zambia may be becoming increasingly well known, yet the country still retains its essence: that authentic feeling of a wilderness which is wild, beautiful and slightly unpredictable. For those in the know, it remains the place for walking safaris. In its three main safari areas – the Luangwa Valley, the Lower Zambezi and northern Kafue – you'll find top, owner-run camps, superb game and some of the continent's best guides. In all of these you'll see few other visitors; most Zambian camps are still tiny and remote. You'll travel around using small, open-sided 4x4s seeing few, if any, other vehicles. Throughout Africa there are khaki-uniformed chauffeurs who drive through the bush, but here you still find expert guides to trust with your life.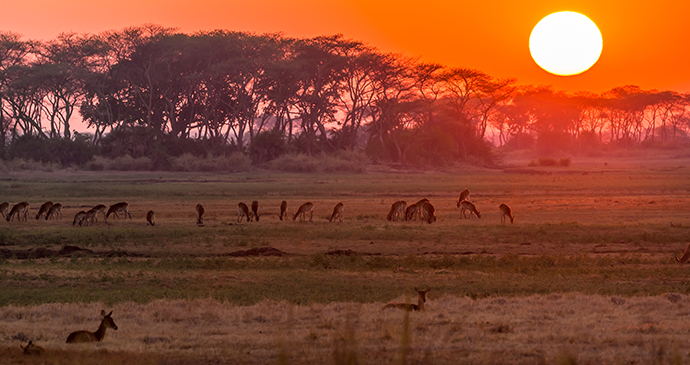 Kafue National Park © Catherina Unger, Dreamstime
In 1999, I introduced the second edition of Zambia: the Bradt Travel Guide with the comment that Zambia was a country for the cognoscenti, and especially those who knew about walking safaris – it wasn't a place for everyone. Ten years later, I was forced to reassess. A lot has changed in the intervening years and the options for visitors have broadened. Zambia now offers more than simply superb bush camps: there is increasing variety – from cultural offerings to family-friendly safaris and luxury lodges. Transport is becoming much easier: internal flights make more areas accessible, whilst old Africa hands are starting to make mini-expeditions here in self-contained 4x4s. National parks that had been written off are coming back to life, as pioneers open up original camps in more offbeat areas. Levels of both quality and choice have generally increased. Meanwhile, new places to stay and new areas to visit are starting up outside the old, established circuits. Gradually, the rest of this huge country (twice the size of Zimbabwe) is opening up, and its less famous attractions are coming to light.
Many of these lesser-known areas are gems. Consider Kafue National Park: this is a wilderness area the size of Wales, yet it receives only a scattering of visitors. The far south of this park is ideal not only for adventurers equipped to camp, but also for visitors to a handful of rustic safari camps. It is less than a day's drive from the busy hub of Livingstone, yet most of its bush tracks were, until the last few years, becoming overgrown.
In the centre of Zambia lies the huge Lake Bangweulu, surrounded by the swamp that defeated Livingstone – his heart is buried nearby. This land of islands and waterways is a permanent wetland, home to the rare shoebill stork and an endemic species of antelope, the black lechwe. It's now easy to fly here, and the proximity of other destinations makes it more attractive: Kasanka National Park and Mutinondo Wilderness are both close by. So, also, is Shiwa Ng'andu, which remains one of the subcontinent's most extraordinary memorials to British colonial rule. Here an English aristocrat carved out a utopian estate from the untamed bush, whilst helping Zambia to achieve its own independence. Although Africa gradually defeated his dream, Shiwa, like Zambia, has been re-invented – wilderness into a world-class attraction for a handful of fortunate visitors.
Far to the west, Liuwa Plain National Park is the venue for one of Africa's last great wildlife migrations: blue wildebeest in their thousands, plus zebra, tsessebe and buffalo, all converging on a vast open plain for the rains.
Liuwa is one of the most amazing reserves that I've ever visited in Africa, yet it receives only a few hundred visitors per year. Getting there still requires an expedition, but even this is changing as it is rapidly put on the map by massive investment.
Surrounding Liuwa, in the remote west of the country, is the ancient Lozi kingdom of Barotseland, where the landscape has changed little since Livingstone's day. The rich cultural heritage of a monarch and his people survived colonialism almost unscathed. Their seasonal rhythm is still followed, as the whole kingdom moves by boat from the rich floodplains to higher ground in February or March, making one great, grand traditional flotilla. Now the maps and GPS locations in the guide will enable you to navigate around these areas, and explore a very lovely and remote region that's been largely unvisited by travellers.
Zambia is an amazing country if you can get to its heart. Its government encourages tourism, and foreign exchange is desperately needed to alleviate the poverty of many of its people. But for such logic, this guide might have remained unwritten. Many would prefer Zambia to stay as it is – a favourite place to visit, with superb wildlife, fascinating culture, few other visitors, and Zambians who still treat travellers with kindness and hospitality.
So now, having committed more of Zambia's secrets to paper and screen, I again ask those who travel there to do so with respect. Zambia's wild areas need great care to preserve them. Local cultures are easily eroded by a visitor's lack of sensitivity, and hospitality once abused is seldom offered again. Enjoy – but be a thoughtful visitor, for the country's sake.
Author's story
In 1995 I crossed the Zambezi with trepidation. I left behind me prosperous Zimbabwe, which I knew well; I'd lived in the rural areas there for nearly three years. Ahead was the unknown: Zambia. I had been able to find little about the country's attractions, and I expected problems, but backpacking around I found kindness and friendliness in a great country. I marvelled at the Victoria Falls; ventured into the national parks; canoed on the Zambezi; and dined under the stars. The result was the first travel guide to Zambia. Since then, I have returned often, initially with my backpack, but latterly driving a 4×4 and occasionally taking to the air. With Zambia's more inaccessible places within reach, I explored further, discovering hidden waterfalls, private reserves, the colonial extravagance of Shiwa Ng'andu, and the superb birding of Liuwa Plain. Over the years, I have grown to love the country and have been lucky enough to share it with the visitors that I send there. My hope is that you, too, will find it spectacular, challenging and intriguing.