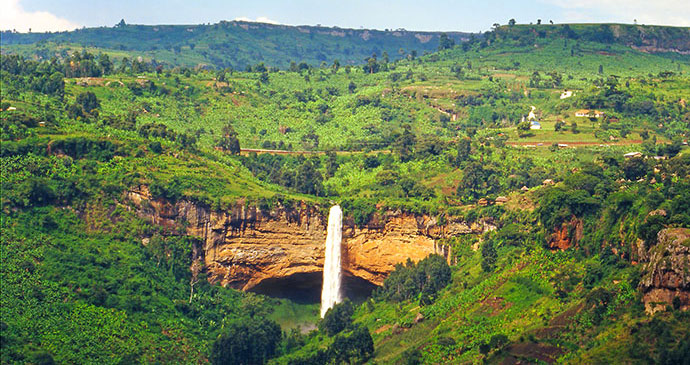 On its way downhill from Mount Elgon's central caldera, the Sipi River plunges over ochre basalt cliffs to create the massif's emblematic waterfall © Pecold, Shutterstock
Shake off the dust and relax on the slopes of Mount Elgon around Sipi Falls.
Elgon's main tourist focus is the small trading centre of Sipi, which lies at an altitude of 1,775m on the mountain's northeastern footslopes, only 45km from Mbale along a good surfaced road. The village overlooks the 99m-high Sipi Falls, the last in a series of three pretty waterfalls formed by the Sipi River as it cascades downhill from the upper slopes of Mount Elgon into the Kyoga Basin. Serviced by half-a-dozen resorts and lodges that collectively cater to most tastes and budgets, Sipi is a very peaceful and pretty spot, and it makes a most agreeable base for gentle day walks in the surrounding hills, which offer spectacular views to the lowlands further west and – weather permitting – occasional glimpses of the Elgon peaks.
The most popular walking trail, only 20 minutes each way, leads from behind the post office in Sipi trading centre to the base of the main waterfall. If you choose, you can continue for another 20 to 30 minutes to reach a cluster of caves on the cliff above the river. The largest cave extends for about 125m into the rock face, and contains rich mineral salt deposits that have clearly been worked extensively at sometime in the past, as well as traces of petrified wood. Walking back to the trading centre along the main road, you'll pass the top of the main waterfall, as well as Sipi Mise Cave, an important local shrine set within a small forest-fringed cavern.
It is more-or-less mandatory to take a guide on walks to the waterfalls, other local hikes and coffee tours. This not only helps you locate some of the sites, but also the guiding fees include a contribution to local landowners for access to the falls.The going rate is around US$7–10 per person depending on the duration of the walk and where you arrange it.