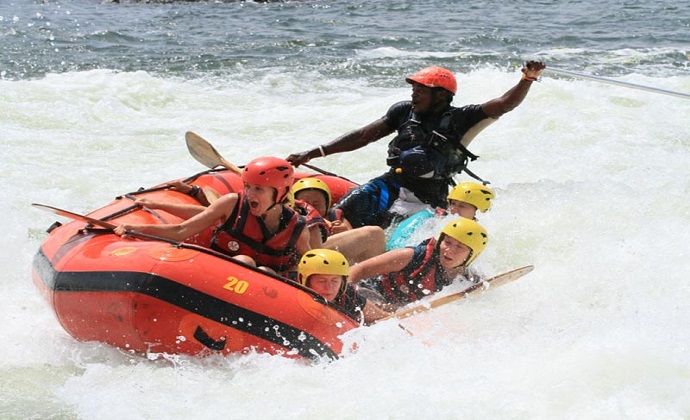 Tackle the spectacular rapids on the Nile River near Jinja © Nile River Explorers
Raft and kayak the turbulent headwaters of the mighty Nile.
Rafting trips on the Nile are offered by four companies: Adrift, Nile River Explorers (NRE), Nalubale Rafting and White Nile Rafting. Rafting excursions can be booked directly with the rafting company, or indirectly through any tour company in Jinja or backpacker hostel in Kampala.
The rafting companies listed offer similar fullday itineraries starting on the West Bank of the river above the rapid known as Jaws and finishing near Kalagala Falls. This is a new route necessitated by the flooding associated with Isimbi Dam in 2018–19 but it still includes ten rapids including the Grade V Overtime and Bad Place and it also offers an opportunity to see a lot of different birds, and to swim in calm stretches of water. All companies charge US$145 for a full-day excursion inclusive of return transportation from Kampala or Jinja, buffet lunch, and beers and sodas. Half-day rafting trips are also available at a cost of US$125 per person.