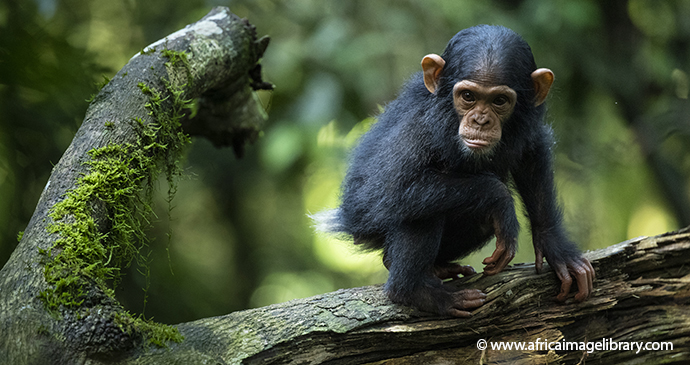 Habituated chimpanzees can be tracked in several Ugandan forests, most notably Kibale, Budongo and Kalinzu © Ariadne Van Zandbergen, Africa Image Library
Seek out chimpanzees, your closest relatives, in the shadowy depths of the Kibale Forest.
Uganda's premier chimpanzee-tracking destination, Kibale National Park protects 766km² of predominantly forested habitat that extends more than 50km south from the main Fort Portal–Kampala Road to the northeast border of Queen Elizabeth National Park. Originally gazetted as a forest reserve in 1932, Kibale was upgraded to national park status, and extended southward to form a contiguous block with the Queen Elizabeth National Park, in 1993. The trailhead for chimp tracking and main centre of tourist activity within the park is the Kanyanchu Visitors' Centre, which lies 35km south of Fort Portal along a newly surfaced road that continues south to Kamwenge and Ibanda. Chimps aside, Kanyanchu offers some superb forest birding and monkey viewing, with the community-run Bigodi Wetland Sanctuary, only 5km away immediately outside the park boundary, being a particular highlight in this respect.
Kibale National Park is dominated by rainforest, but this is interspersed with tracts of grassland and swamp. Spanning altitudes of 1,100– 1,590m, Kibale boasts a floral composition transitional to typical eastern Afromontane and western lowland forest with more than 200 tree species recorded in total. Unlike Budongo Forest to its north, Kibale wasn't logged commercially until the 1950s, when it became an important source of timber for the Kilembe Copper Mine near Kasese, and logging was discontinued during the civil war. As a result, areas of mature forest are still liberally endowed with large-buttressed mahoganies, tall fruiting figs, and other hardwood trees whose canopy is up to 60m above the ground. It also supports a dense tangle of lianas and epiphytes, while the thick undergrowth includes wild Robusta coffee.
At least 60 mammal species are present in Kibale National Park. It is particularly rich in primates, with 13 species recorded, the highest for any Ugandan national park. Kibale Forest is the most important stronghold of Ugandan red colobus, but it supports eight other diurnal primate species: vervet, red-tailed, L'Hoest's and blue monkeys; Uganda mangabey; black-and-white colobus; olive baboon; and chimpanzee. It also supports four species of nocturnal prosimian including the sloth-like potto.
Most prominent among Kibale's primates is a chimpanzee population of up to 1,500 individuals, divided into at least a dozen different communities, four of which are habituated to humans. The Kanyantale Community has been the subject of daily tourist tracking excursions out of Kanyanchu since 1993. The other three are all reserved for researchers and include Ngogo, which is the world's largest chimp community, numbering more than 200 individuals. Another community called Buraiga, whose territory lies close to Kanyanchu, is currently being habituated for tourism.