Authors' take
Tanzania is Africa's ultimate safari destination. Statistics alone support this assertion eloquently. An unprecedented 25% of the country is protected in a network of conservation areas that incorporates the continent's most famous national park and the world's largest game reserve. An estimated 14,000–15,000 lions still roam the country, a figure four-times greater than that of the nearest contender (South Africa with around 3,500), while the elephant population, estimated at 140,000 despite recent poaching issues, represents around one-fifth of the continental total. Less tangibly, it is thought that Tanzania supports something like 20% of Africa's large mammal biomass, much of it comprising the Serengeti's migratory herd of around two million wildebeest and zebra.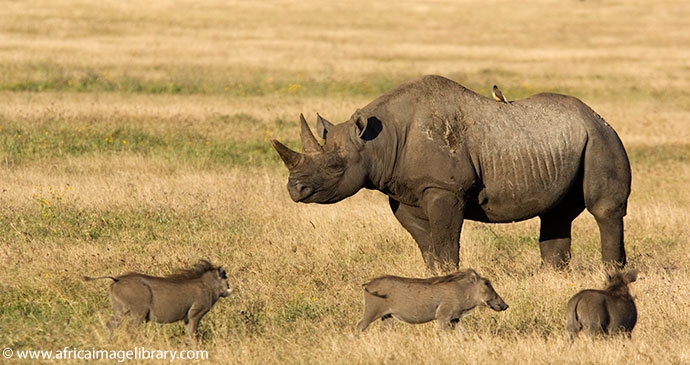 The Ngorongoro Crater is one of the best places in Tanzania to spot black rhino © Ariadne Van Zandbergen, Africa Image Library
Moulded by the violent tectonic activity that created the Great Rift Valley, Tanzania is home to the continent's highest mountain, to the world's largest intact caldera, and to one of its most active volcanoes. It is bordered by Africa's largest three lakes: one of which is also the world's second most extensive freshwater body, another the longest and second-deepest. These three inland seas vie with each other for the honour of harbouring the world's greatest diversity of freshwater fish. And if that were not enough, Tanzania also boasts Africa's second-longest bird checklist (after the Democratic Republic of Congo), with some 1,130 species recorded, including around 40 endemics.
When I first visited Tanzania, had anybody suggested that it might one day rank as the most diverse, the most friendly, and arguably the best safari destination anywhere in Africa, I'd have thought they were insane. And how wrong I'd have been … for today, over 25 years on, that's exactly what Tanzania is!
So, the map of Tanzania is guaranteed to leave any statistician salivating. But, reading like a virtual litany of Africa's most evocative place names, it will also touch the heart of any poet. There's the magical offshore 'spice island' of Zanzibar. The snow-capped peak of Kilimanjaro rising dramatically above the surrounding scrubland. The endless plains of Serengeti National Park, the Edenesque vistas of Ngorongoro Crater, and the vast tracts of bush enclosed within the Selous Game Reserve. Dusty Olduvai Gorge is the site of some of the most important hominid fossil finds ever, while lush Gombe Stream is where Jane Goodall embarked on her pioneering study of chimpanzees, our closest living relatives.
There is the Maasai Steppe, where Africa's most charismatic pastoralists herd their cattle alongside fields of grazing wildlife. On the same map, you'll find an Indian Ocean coast lined by the modern port of Dar es Salaam and its legendary medieval forbear Kilwa, as well as the sky-blue expanses of lakes Victoria, Tanganyika, Niassa-Malawi, Manyara and Natron, the last situated below the temperamental volcano Ol Doinyo Lengai.
Despite its great natural wealth, Tanzania was a relatively slow starter when it came to post-independence tourist development. In the early 1990s, tourist facilities were limited to a few government lodges whose dire standards reflected the sagging economic infrastructure and the anti-investor policies of the then-socialist government. Then, as now, Tanzania's profile as a safari destination is often overshadowed by that of neighbouring Kenya. But otherwise the situation has changed dramatically over the intervening two decades. Indeed, Tanzania today boasts some of the finest and most exclusive safari lodges and camps you'll find anywhere in Africa, as well as a world-class selection of city hotels and beach resorts, the latter concentrated on the islands of Zanzibar, Pemba and Mafia.
These changes have been paralleled by the evolution of Bradt's Tanzania guides. The Bradt Guide to Tanzania started life in 1993 as a pioneering warts-'n'-all manual to a country then practically uncharted by the guidebook industry and best suited to explorative, tolerant travellers. Over the course of its first six editions, the book trebled in length and gradually shifted in emphasis to reflect the ongoing expansion and upmarket drift that has characterised the county's tourist industry.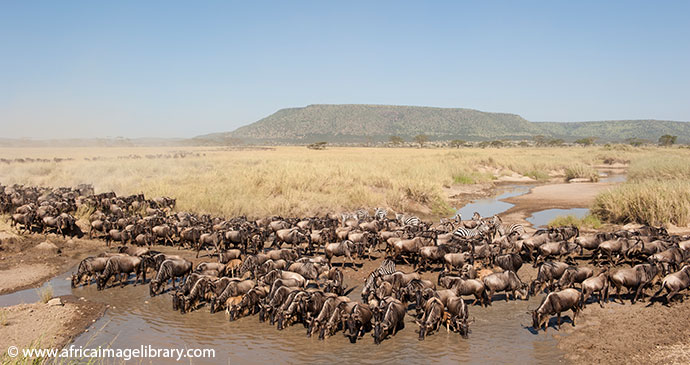 The vast plains of the Serengeti play host to the Great Migration each year © Ariadne Van Zandbergen, Africa Image Library
Tanzania is now primarily a 'safari' and 'holiday' destination, as opposed to a 'travel' destination, by placing the emphasis squarely on genuine tourist attractions, both established and obscure, as well as on key urban travel hubs such as Arusha, Moshi and Dar es Salaam. Arusha and the northern safari circuit have become the places where the bulk of travellers go. Here, a well-defined tourist trail centres upon the world-famous Ngorongoro Crater and Serengeti, Lake Manyara and Tarangire national parks. But the region also boasts a wealth of more obscure highlights, among them ancient rock art of Kondoa, the hunter-gatherer cultures of Lake Eyasi, the biodiverse forests of Amani, and the primeval volcanic landscape of Lake Natron and Ol Doinyo Lengai. It is also a region that offers some fine hiking, most famously the sapping climb of Kilimanjaro, but also the scenic ascent up Mount Meru (the fifth highest in Africa) and limitless opportunities for rambling in the Usambara.
Though not as well known as the Serengeti and other parks of the north, the south boasts three superb safari destinations, namely Selous Game Reserve and Ruaha and Mikumi national parks. These parks feel very untrammelled by comparison with the north, and Selous in particular is recommended to adventurous safarigoers who want to supplement conventional game drives with guided bush walks and boat trips on the Rufiji River. Wilder still is Katavi National Park, a superb plains reserve which, together with Mahale Mountains – the finest place in Africa to track chimpanzees – forms the cornerstone of the truly off-the-beaten-track western safari circuit.
The prime attraction along the coast is the offshore island of Zanzibar, with its atmospheric Swahili stone town, postcard-perfect beaches, and world-class diving and snorkelling opportunities. A similar bouquet of attractions is offered by the lesser-known islands of Pemba and Mafia, while those with a yen for exploration are pointed to the historic but little-visited old ports of Bagamoyo, Kilwa, Pangani and Tanga. Also surprisingly characterful and unaffected by tourism is the port of Dar es Salaam, the country's largest city and former capital.
Author's story
Philip Briggs
We go back a bit, do Tanzania and I. Our first stilted encounter was back in 1986, when as a nervous novice traveller heading from Kenya to Zambia, I'd heard so much about the nightmarish black market, appalling public transport and obtuse officials that I decided to nip through Tanzania in less than a week, stopping only to catch my breath in the spectacularly rundown port of Dar es Salaam.
Two years later, I returned to Tanzania on a less intimidated footing, and followed a more adventurous route that incorporated side trips to somnolent Tanga and the fabulous ferry ride down Lake Tanganyika. But I guess the real romance began in 1992, when I spent four unforgettable months bussing the length and breadth of Tanzania to research what would become the first dedicated guidebook to this extraordinarily diverse – and at the time vastly underrated – country.
Updating duties have recalled me to Tanzania regularly since then, and every time I'm struck afresh at how much it has blossomed over the course of our acquaintance. The Tanzania I first encountered in 1986 was seemingly stuck in inextricable economic decline, with every aspect of its infrastructure, from roads and public transport to electricity and water supplies, tottering on the verge of collapse. Meanwhile, manufacture had ground to a standstill – simply tracking down a warm beer in Dar was an exercise that could take on epic proportions.
Back then, tourist facilities, such as they existed, were barely functional. And an insane fixed exchange rate ensured that travel was dominated by a risky black market. Had anybody suggested that Tanzania might one day rank as the most diverse, the most friendly, and arguably the best safari destination anywhere in Africa, I'd have thought they were insane. And how wrong I'd have been … for today, over 25 years on, that's exactly what Tanzania is!