The official residence of St Helena's governors for more than 200 years, Plantation House is a rather splendid Georgian structure which was built for that purpose between 1791 and 1792. The original was built in 1673, but it fell into disrepair and was replaced in 1722. The second house, initially the home of the plantation manager, in time became the governor's summer residence.
But this house, too, was plagued with problems, and eventually the East India Company agreed to build a new governor's residence, which was completed in 1792 for the princely sum of £3,020. During his tenure, between 1816 and 1821, Napoleon's custodian Governor Hudson Lowe added a library and billiard room, with a nursery above them appropriately known as 'Chaos'.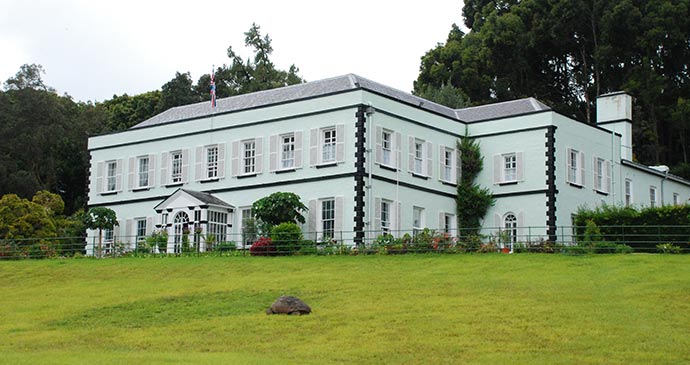 Inside, the house is surprisingly light, with an air of tasteful elegance. In the entrance hall are photographs and paintings of the British royal family going back to Prince Albert, and rarely seen photographs of the Duke of Edinburgh sporting a beard. Of the 35 rooms, visitors see just three or four on the ground floor.
Typically these included Hudson Lowe's comfortable library, restored in 2012 to reflect the original décor; the 'blue' lounge; and the particularly impressive dining room, one of the largest rooms in the house. Over the years, many distinguished visitors have been seated around the table, including the Duke of Wellington, Lord Curzon and one of Napoleon's companions in exile, the Comte de Montholon.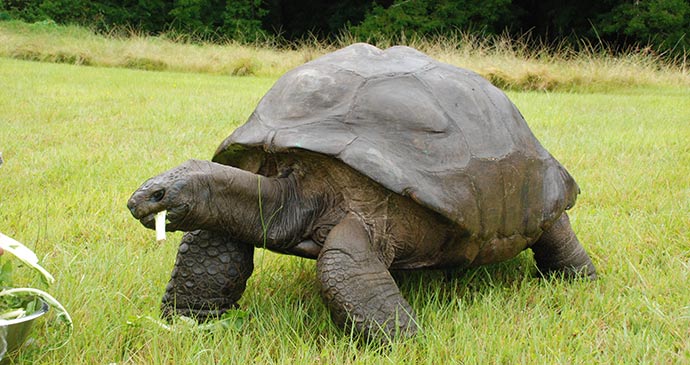 Roaming the large lawn, or paddock, in front of the house are five giant tortoises, which visitors may watch from a fenced-off viewing area without appointment. This is where you'll find Jonathan, the last surviving Aldabra tortoise, who – at the last estimate in 2015 – was said to be 186 years old.
That said, no-one really knows his age, despite far-fetched claims that he was already here when Napoleon arrived. In reality, it's likely that he arrived around 1882, possibly brought from the Seychelles when he was fully grown. Whatever the date, age is beginning to take its toll, and today he is hand fed twice a week by the gardeners to ensure that he is properly nourished.