Root among the rocks and rusting cannons at this spectacularly located beach.
Sandy Bay – the bay itself, rather than the district – occupies a spectacular southern location, its beach dominated by the barren rock formations that culminate in Lot and Lot's Wife. The surrounding landscape varies from lush greenery to barren rock, sometimes changing abruptly, sometimes in subtle gradations.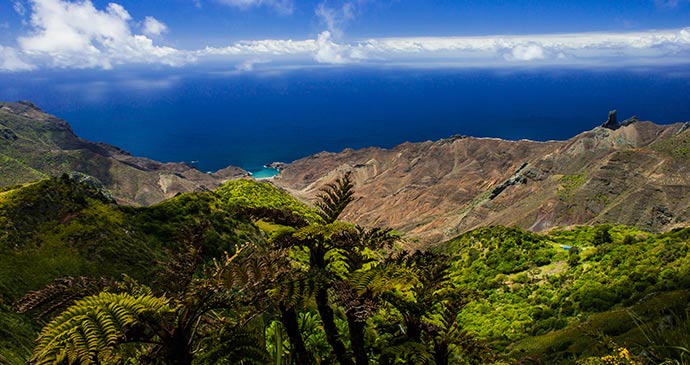 To envisage this 'sandy bay' could be slightly misleading. It is indeed a bay, neatly enfolded within steep volcanic cliffs; and there is indeed sand – but that's where the picture goes awry.
As on the island of Lanzarote, the sand at Sandy Bay is black – and to detract further from the image, it's not a safe place to swim. (Jellyfish don't help, either.) Despite that, it's an interesting area to explore.
The remains of fortifications and the lines of rusting cannons lining the beach hint at the vulnerability of the island at this point. The battery is still standing but much of the wall which once connected the fortifications at Sandy Bay has eroded due to weather, time, and poor construction.
There's also the remains of an old lime kiln, built so that limestone discovered here in the early 18th century could be fired and converted to lime to mix with mortar. It was a great find at the time, making it possible to repair fortifications and buildings that had started to crumble because the mortar used in them was of such poor quality.
Do note, if you're planning to come down here, that if turtles are found to be nesting on the beach – usually in the first half of the year – the beach itself is put off-limits, but visitors can still take a look at the fortifications, and walk in and around the area.