On 15 October 1815, the British warship Northumberland sailed into James Bay with St Helena's most famous visitor on board: Napoleon Bonaparte. Exiled following his defeat at the hands of the Duke of Wellington at the Battle of Waterloo, Napoleon and his entourage were weary after weeks cooped up at sea, but their first impressions were not favourable.
As the new arrival scrutinised his 'island prison' with the spy glasses he had used on many a battlefield, he is reputed to have said, 'It is not an attractive place; I should have done better to remain in Egypt'.
On the day of Napoleon's arrival, a crowd of curious people was waiting at the wharf to greet him, but all in vain. It was decided that he should not come ashore until after sundown the following day, in order to avoid unwanted attention. Even then, it required a troop of soldiers with fixed bayonets to force passage for him to the house of Henry Porteous, on Main Street in Jamestown.
The Porteous house had been chosen as a temporary residence for Napoleon but the French, with an entourage of 26 people, were astounded at its meagreness and felt that the Castle, with its vast rooms, or Plantation House (the governor's residence) would have been more suitable. After just one night in these cramped quarters, Napoleon, Sir George Cockburn, and Général Bertrand rode about five miles to inspect Longwood House, where work on preparations for Napoleon's installation was expected to take two months.
Although the house had been used as the summer residence of the lieutenant governor, and Napoleon was assured that it would be transformed into a comfortable residence, he is said to have been disappointed with the dark, low-ceilinged rooms and the bare garden.
It was on the return to Jamestown, when Napoleon decided he could not spend another night at the Porteous house, that he discovered The Briars. So enchanted was he by the estate that he asked about accommodation here while waiting for the renovations to be completed at Longwood House. The Balcombe family, who owned the house, offered Napoleon the use of their home, but he opted instead to occupy the pavilion, situated on top of a hill just 30 yards (27m) from the main house.
Napoleon spent only two months at The Briars, but they proved to be the most enjoyable of his time on St Helena. His relationship with the Balcombe family was friendly, and he became especially fond of their 13-year-old daughter, Betsy. It was with reluctance and sadness that, at the beginning of December, he left to continue his life in exile at Longwood House.
Longwood House
This is well known as the place where Napoleon Bonaparte spent the majority of his exile on St Helena. Perched on an exposed plateau, it can be a depressing place in poor weather, but a visit to Longwood House is a must.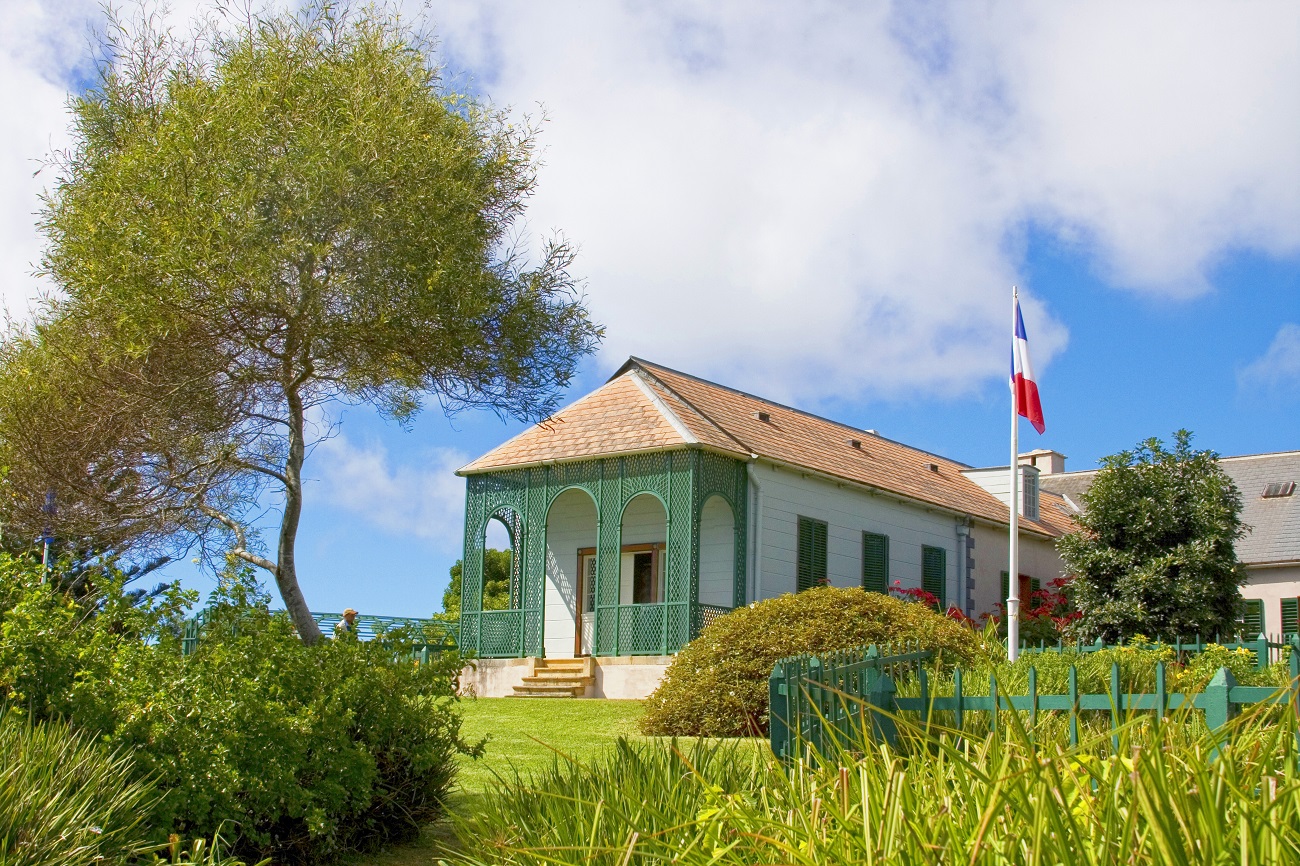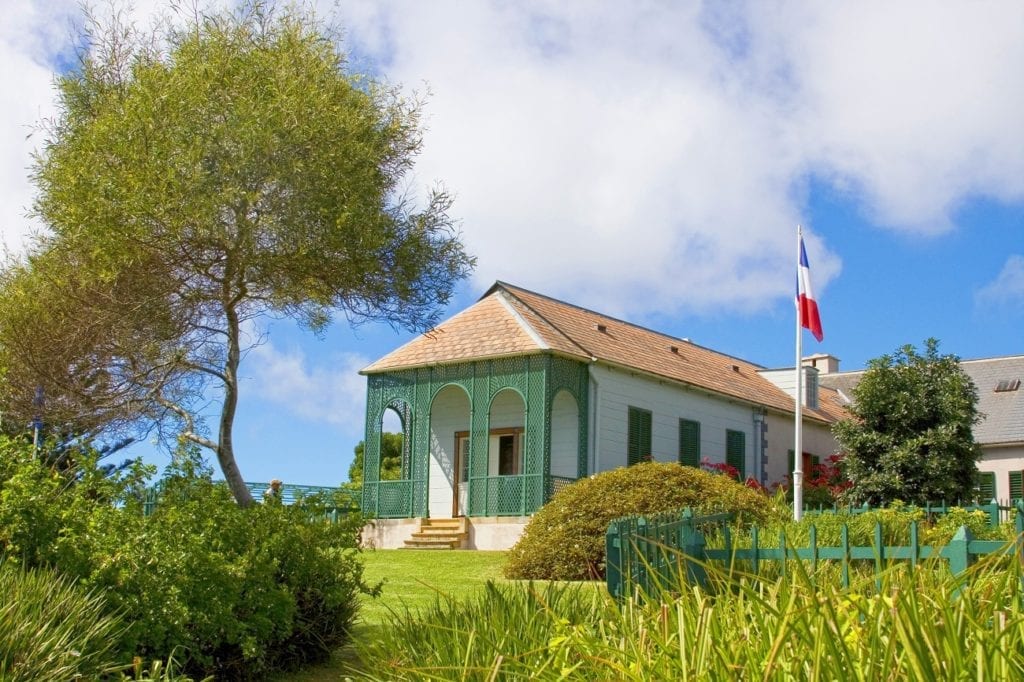 Since 1858, the property – along with the site of Napoleon's tomb – has been owned by the French government, sold to them for the princely sum of £7,100 by agreement with Queen Victoria. On a sunny day, it is hard to picture the house as it would have been 200 years ago, its walls often dripping with damp, its floors rotten, and fires smoking in every grate.
Many of the pieces of furniture that can be seen at Longwood House date back to Napoleon's lifetime. These include the billiard table that dominates the entrance, the dining-room table where Napoleon and his entourage endured short but formal dinners every night, and the deep copper bath where he spent an increasing amount of time, as well as the bed in which he died. Most items are labelled, but the audio guide comes with insightful details and commentary, and is therefore well worth the extra cost.
Sane Valley
It is said that Napoleon himself chose Sane Valley as his final resting place – though this was not quite how it turned out. Approached down a sometimes slippery track that was originally cut for the funeral cortege, the original (and now empty) tomb is quite well hidden, about 10–15 minutes' walk from the road.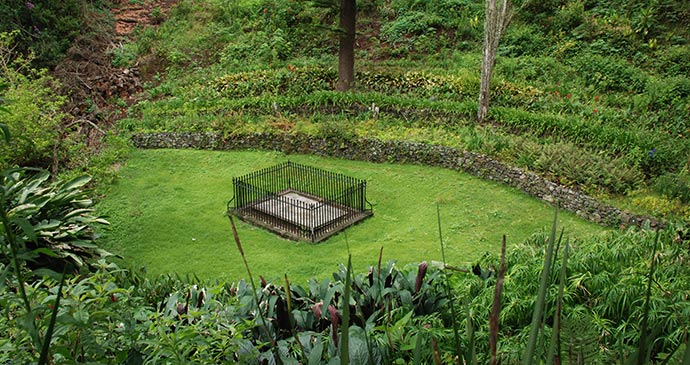 Today, a fence separates visitors from the tomb itself, somewhat accentuating its isolation in this lonely but serene spot.
At the time of Napoleon's interment the tomb was surrounded by willows, but these have now been replaced by Norfolk Island pines, backed by a profusion of well-tended but natural-looking shrubs. Still standing in its original spot, though, is the guard shack: even after Napoleon's death, the British kept a close watch over the former emperor.
His memorial stone bears no inscription, for the simple 'Bonaparte' was rejected by Hudson Lowe, and the French were insulted by his counter-suggestion of 'Napoleon Bonaparte'. Napoleon's body, securely encased in four separate coffins, remained here for nearly 20 years until, in 1840, it was removed and taken back to France, where it resides with due decorum at Les Invalides in Paris.
Briars Pavilion
Napoleon spent his happiest time on St Helena at this small pavilion, in the grounds of a house set on a hillside above Jamestown. It was owned by the Balcombe family, and offered down to James Bay.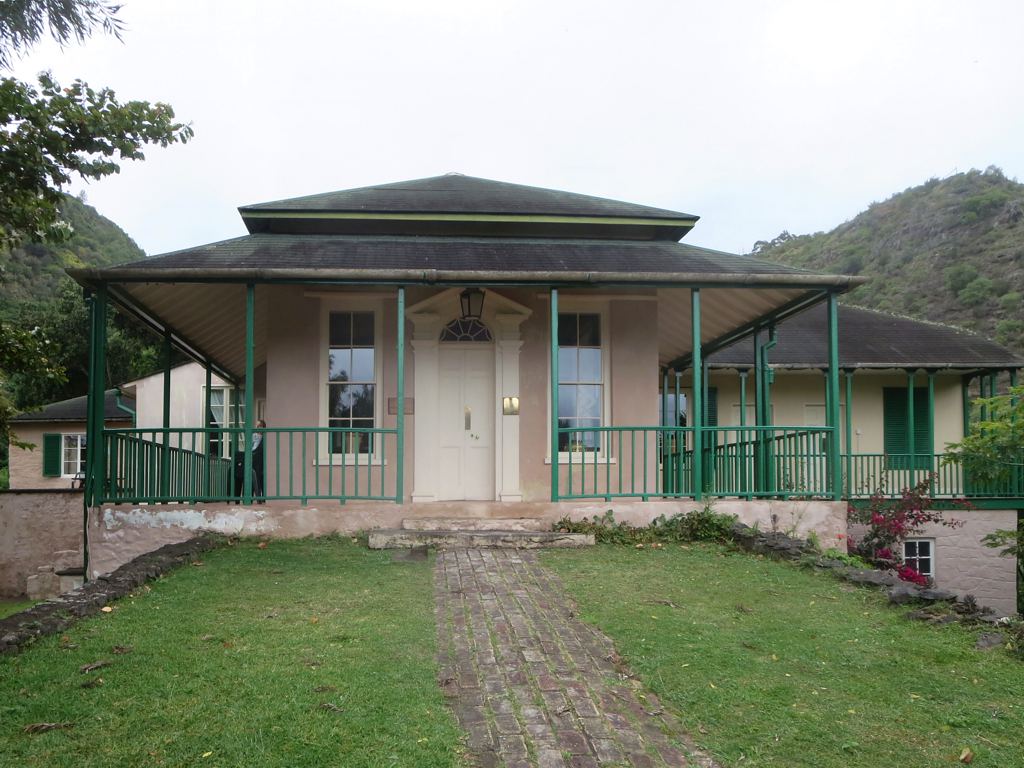 Their house is long gone, but the pavilion – gifted to the French government in 1959 – is fully restored. Its décor – as at Longwood House – reflects the house at the time of Napoleon's death. In addition, the attic area, which during Napoleon's two-month stay was used by Comte de Las Cases and his son, has been sensitively rebuilt from the original plans.
The gardens, too, have been re-established, but what is left of the original furniture from the pavilion is on display at Longwood rather than here.