The paintings have been preserved in situ by their sheltered location and by the dry Somali climate, and they remain striking both for their vibrant colours and their rich complexity.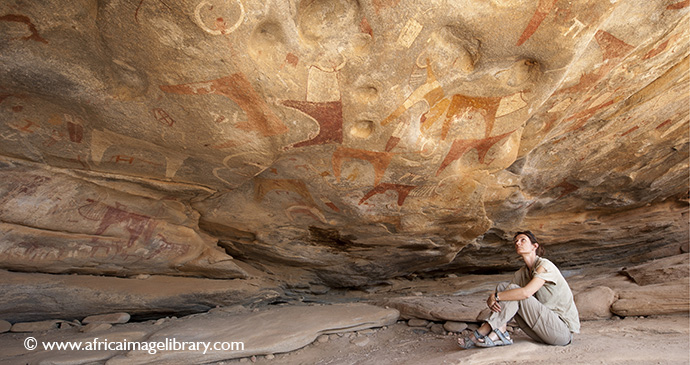 The southeast face of Las Geel has a ceiling that is covered in 350 individual paintings © Ariadne Van Zandbergen, Africa Image Library
Estimated to be at least 5,000 years old, and quite possibly twice as ancient, the superb rock art at Las Geel ranks among the oldest and best preserved of its type anywhere in Africa. It comprises about a dozen individual painted shelters scattered on a granitic outcrop that rises from the confluence of two wadis, a spot where the high water is reflected in the name Las Geel meaning 'Camel's Waterhole'. Their presence provides incontrovertible evidence that the pastoralist lifestyle was well established in the region thousands of years before it reached western Europe.
Easily visited as a day trip from Hargeisa or en route to Berbera, Las Geel is the most compelling tourist attraction in Somaliland, topping the Department of Tourism & Architecture's list of potential UNESCO World Heritage Sites. The site was also visited by the broadcaster Simon Reeve for the BBC programme Places That Don't Exist, broadcast in 2005. And yet, incredibly, the existence of this fantastic rock art remained unknown to the outside world until three years before that. Although locals had long held the site sacred, it was first documented in December 2002, when a team of French archaeologists under Professor Xavier Gutherz was led here by villagers from nearby Dhubato.