Even in its present semi-ruinous state, Berbera is an absorbing place.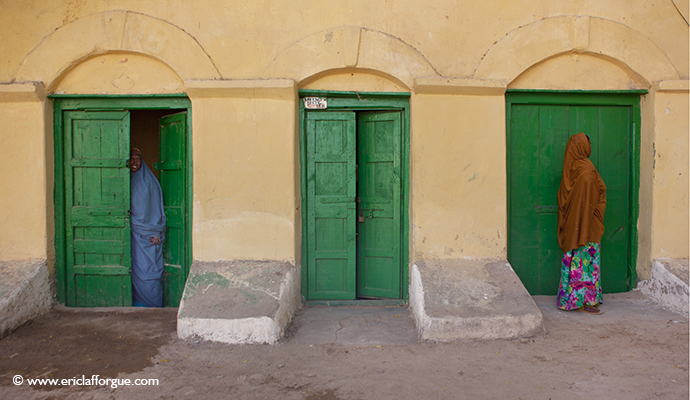 The oldest quarter of Berbera is known as Darole © Eric Lafforgue
The historic town of Berbera has been a centre of maritime trade since ancient times. It stands on the Gulf of Aden opposite Yemen, a strategic location along the ancient trade route between the Red Sea and India, and of similar importance during the more recent Cold War. Indeed, in the 1970s, Berbera was an important base for the USSR, which built the 4km runway (one of the longest anywhere in Africa) that somewhat redundantly graces the international airport a few kilometres south of town. Today, Berbera is the main commercial seaport in Somaliland, serving not only the capital Hargeisa, about 150km to the south, but also bordering parts of eastern Ethiopia.
Boasting an idyllic swimming beach and access to innumerable well-preserved coral reefs, Berbera has enormous potential for tourist development, although this remains largely unrealised at the time of writing, with just one rather unconvincing resort hotel and dive centre in place. Also of great interest is the old quarter of town, where the wealth of crumbling pre-20th century architectural gems – most in urgent need of restoration work – would make it a shoo-in candidate as a UNESCO World Heritage Site were Somaliland ever to gain UN recognition. It doesn't seem wildly fanciful to see a rehabilitated incarnation of the old town one day forming a Somali counterpart to such iconic cultural tourist hubs as Ilha do Moçambique, Gorée Island or Lamu.
As things stand, Berbera tends to make a less-than-favourable first impression, particularly when you arrive in the harsh light of early afternoon via an extensive and unsightly litter belt of scrubby thorn trees, draped with thin plastic bags. It doesn't help that the only beachfront hotel, the out-of-town Maan-soor, has the stark and unfinished appearance of a construction site. Or that the town can be intolerably hot in the summer (May to September), when daytime temperatures routinely nudge above 45°C, with typical nocturnal minimums of 30–35°C, all but necessitating a room with air conditioning.
Once settled in, however, Berbera is thoroughly appealing, at least during the relatively cool winter months, when average temperatures, although not exactly arctic, are almost 10°C lower. The compact old town, its alleys lined with attractive mosques and other relicts of the Ottoman occupation, is great fun to explore, and the sandy out-of-town beach is genuinely refreshing. Further afield, the surrounding reefs offer superb diving and snorkelling, while the ancient waterworks at the Dubaar Springs – overlooked by old Ottoman fortifications – make for a worthwhile day out. Berbera could also be used as a base for exploring the likes of Mount Wagar and Ga'an Libah.