From rainforest reserves and holiday happiness to slave trade legacy and cultural heritage, the Western Peninsula is like Sierra Leone in miniature.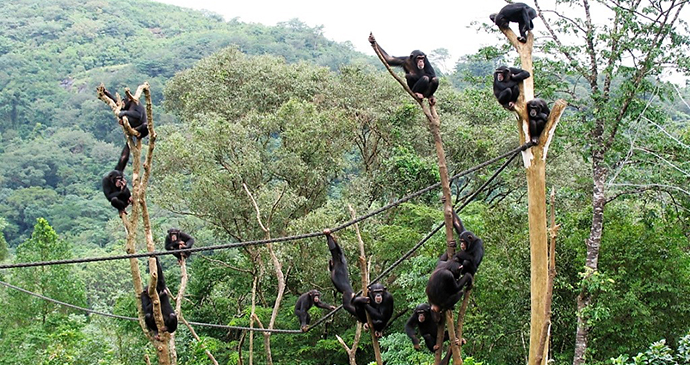 Even the least-animal friendly of visitors will get sucked into the magic of the chimps at the Tacugama Sanctuary located in the interior of the peninsula © Tacugama Chimpanzee Sanctuary
The Western Peninsula is like Sierra Leone in miniature – the holiday happiness of the ocean breeze, glorious rays, pristine beaches and cosy camp fires; rainforest reserves revealing chimps, rare birds and picnic-perfect waterfalls; the legacy of the coastal west African slave trade; and some of the best-preserved examples of the country's Krio and Sherbro heritage.
On the wooded slopes of the Peninsula interior you can bathe in mountain pools, observe endangered primates close enough for them to biff you on the nose, and hike around the Western Area's threatened forests. As for the coastline, all you have to do is indulge. For 40km. It provokes a little twitch of envy across the whole of west Africa, and visitors have been known to mutter about being in 'tenth heaven' as they set eyes on beach after beach, and dip toes in bathtub-warm water. Once the setting for a Bounty advert, these shores really do have a taste of paradise about them: bone-white sands stretching so far it feels like you could wander them forever; wooden boats bobbing on placid waters beneath forest-covered mountains disappearing into the mist; hammocks slung between trees on islands off the coast, perfect for lazy snoozing with only the bird for company; beachside villagers practising fishing and football. Give yourself some time, an appetite for fresh fish, lobster and oysters, and get out there.