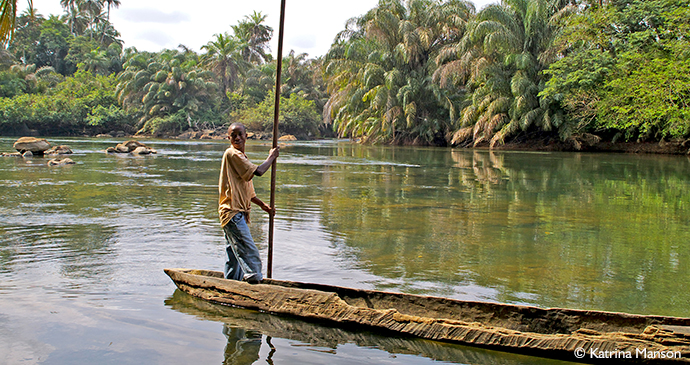 Tiwai Island as well as Gola and the Lorna Mountains are three of the last habitats for wild chimps in Sierra Leone © Katrina Manson
An undoubted wildlife highlight, this tropical rainforest island is a pleasing adventure full of monkey encounters.
A visit to this tropical rainforest island is undoubtedly one of Sierra Leone's wildlife highlights. Encircled by the slow-flowing waters of the Moa River you are immersed in the sights and sounds of one of the world's densest and most diverse chimpanzee and monkey populations and more than 700 species of plant life, not to mention the pygmy hippo, a squat little nocturnal beast found only in Liberia, Ivory Coast, Guinea and Sierra Leone. It's a pleasing adventure unmatched by anything else in the country – far from Freetown and, accessible only by motor launch, you camp in unusually good conditions. The name Tiwai might mean 'big' in Mende, but at 12km² (measuring 6km by 3km at its longest and widest points), it's easy to make the island your own, and a rare chance to hole up in a corner of the Upper Guinea forest region of west Africa (one of 25 'biodiversity hotspots' in the world), with the highest mammalian diversity of any tropical forest.