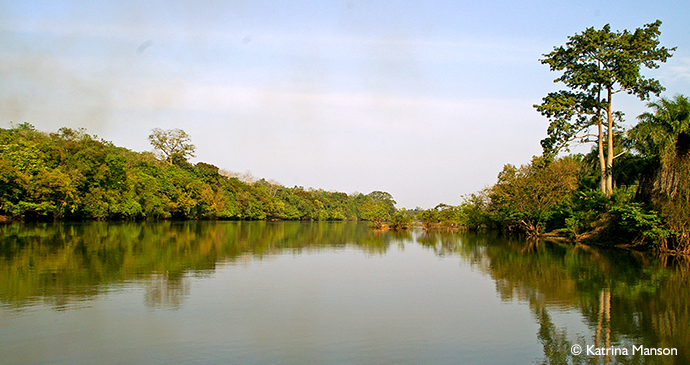 Head to Outamba-Kilimi National Park to canoe with hippos © Katrina Manson
If you've ever dreamt about waking up to the patter of monkey pee on your tent, then the country's oldest national park is for you.
In Outamba, a sighting or two of hippos, chimps and endangered monkeys is pretty much guaranteed, while the luckier may spot elephants and crocodiles, and researchers and some locals even talk of elusive leopards.
Skirting the Guinean border, it is in fact two parks for the price of one – Kilimi, with 243km² of savanna grasslands to the west, and Outamba (named after Mount Ukutamba, on the northern border of the park), more heavily wooded with 741km² to the east. There are bolilands too – large seasonally flooded areas – beside the Great Scarcies and Little Scarcies rivers (known locally as the Kolenten and Kaba). For the moment, unless visitors are particularly curious, exploration is limited to the Outamba side, where there is a basic campsite and guides. Kilimi, however, has two large lakes, and buffalo, waterbuck and bushbuck roam the savanna flatlands.