With its cool breeze and fantastic walking trails amid lovely countryside, this town is a welcome respite for frazzled visitors seeking to escape the humidity and hustle of the coastal regions.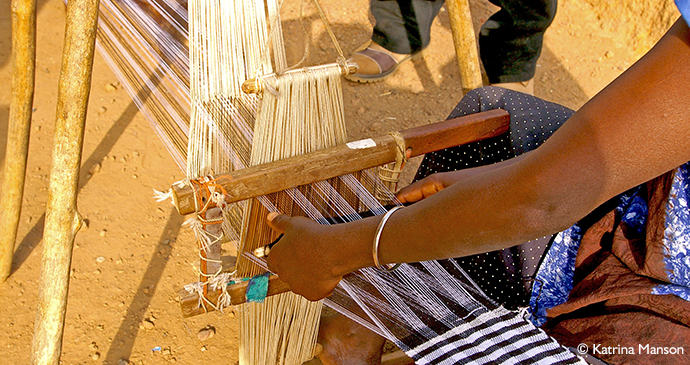 Kabala was once a major centre for weaving, although today it's on the decline © Katrina Manson
Mention Kabala to anyone in Salone and a visible look of relief, and quite possibly delight, generally passes over their face. It's cold, they'll say. And quiet. While it certainly doesn't pass for Iceland, a cool breeze is pretty much guaranteed. Combine that with some fantastic walking trails amid lovely countryside and the town is a welcome respite for frazzled visitors seeking to escape the humidity and hustle of the coastal regions.
Containing Yalunka, Kuranko, Fula, Mandingo and Limba, it is really two towns in one – Kabala and Yogomaia. Local legend tells that the former got its name when in colonial times a European asked where on earth he was. He got the reply 'Ka Bala', meaning 'Go and ask Bala', who was obviously a knowledgeable sort of chap. The name made its way onto the map for good.
Kabala is not just a pretty place. The area is famed as the centre for the cattle-tending areas of the largely Muslim north, and its climate also puts it among the best sources of fresh produce in the country. The pressure for arable land and animal pasture has led to battles – both political and occasionally physical – between the Fula herders and traders on one side, and the sedentary farmers on the other, whose crops are regularly ruined by munch-hungry cows.
Another depressing irony in Kabala is that despite the quality of the land and the productivity of farmers, agricultural infrastructure is so ill-equipped for trade, refrigeration and storage that much of the booty heads straight off to the markets of Freetown where it will fetch a much better price, leaving the local markets bereft. 'At times I have to send to Freetown for cucumber,' says one cook in the town.
The local Limba chief, Chief Gbawura Mansaray III, can be met on his veranda sitting in a wooden throne with Queen Elizabeth II's initials carved into it; he's a good source of local knowledge, and happy to share some of it with visitors.
More striking than the town itself is the giant, looming black cliff next to it; it's never quite clear whether it's menacing the town or watching over it. Most of the fun in Kabala comes from striking out on long hikes to crest this and other hills of the surrounding countryside, stopping off at local villages along the way to ask directions or pick up a guide, and then returning to catch up with Kabala's nightlife in the evenings.